The 'Will & Grace' Cast Reveals What the Show Feels Like 11 Years Later
The cast of Will & Grace is downright giddy about reviving the seminal NBC sitcom. And so, it seems, is the studio audience filling Stage 22 in Burbank. "It was like Oprah!" Megan Mullally says of the first taping in 11 years. "You'd think we'd given them cars!" Eric McCormack adds.
The excitement is no surprise. Will & Grace 2.0 is easily the most hotly anticipated show on the fall schedule. So how did this dream team get back together? Last September, the cast of the Emmy-winning hit—which explored the friendship between gay lawyer Will Truman (McCormack), his straight interior designer roommate, Grace Adler (Messing), and their pals Karen Walker (Mullally) and Jack McFarland (Hayes)—reprised their roles in a video encouraging Americans to vote. The clip went viral (it currently has more than 7.5 million views on YouTube) and, according to series creators Max Mutchnick and David Kohan, the pieces fell quickly into place for a revival. "It really feels like we took a month off and then just started again," Mutchnick marvels.
But what to do about that 2006 finale in which Will and Grace became estranged for 20 years? Well, it's scrapped. "We never would have gone in that direction if we weren't ending the show," Mutchnick told critics in August. That means no time apart, no spouses and no kids.
Will and Grace's apartment
has had only a minor facelift, and Jack still regularly bursts in from across the hall, leaving things much the same as in the first 194 episodes (now streaming on Hulu).
Back in Burbank, the foursome are still on a high after filming their first episode, which reveals how the besties end up living together again. Messing, McCormack, Mullally and Hayes sat down to give us the scoop. Oh, honey, it's good.
How did you all feel during the first taping?
McCormack: It was a combination of completely familiar and completely off-the-charts strange.
Messing: It was very emotional.
Hayes: I cried.
Messing: We all cried when we came out and saw all that love and the joy [from the audience]. We just couldn't believe we were back.
McCormack: We did the first take of the first scene with the four of us and somebody said, "[Director] Jimmy Burrows is crying over there." I went up and said, "Jimmy?" And he just looked at me and said, "I haven't heard laughs like that in a long time."
Were any of you nervous?
Hayes: I think we all were really nervous.
Mullally: I don't even know if it was nervousness as much as I felt there was so much expectation, especially for that first scene where we set up the ground rules for the show's return. I just wanted to do it and have it go well and have that pressure lifted. But it went great.
Messing: It felt great. I had walked away all those years ago feeling a deep love for Grace, but I put her aside because I figured I was never going to revisit her.
McCormack: I didn't ever see myself doing another sitcom. It took a long time for me to lose the physicality that is Will, and it took four minutes to find it again!
Mullally: I always felt like Karen was still living in some parallel universe. I don't know why. I don't think I'm delusional. Not that delusional anyway. [Laughs]
Eleven years have passed on the show as well as in life. How much have these characters changed?
Hayes: Each one of us has certain things that you're going to discover are new. I can share that Jack has trademarked a new acting technique called "Jackting" that he'll be teaching people.
Mullally: Karen and Will fall in love. [Everyone laughs]
McCormack: It's a real mix of those touching moments we had before with some crazy, great farce.
Debbie Reynolds, who played Grace's mother, passed last year. Will that be addressed?
Messing: It will.
McCormack: There has definitely been life lived and real heartbreak.
Is that true for everyone?
Mullally: No. Karen doesn't have any emotions.
McCormack: Just nerve endings.
Mullally: Filled with plastic! [Laughs]
Hayes: Jack's had his ups and downs, as always, in career and love. I'm hoping over the next two seasons we'll see that solidify for him.
Jack and Will are older gay men now. How is that being handled?
McCormack: It's definitely a plot point. Will might have embraced aging more than Jack has.
Hayes: What we've always wanted to maintain is self-awareness within the show and self-awareness with each character. For us to not address the elephant in the room that these characters are older, just like we as actors are older, would be not beneficial to the show.
During the original run, the series got away with so much in terms of risqué humor. Should we expect more of the same this time around?
Messing: Absolutely. It's one of the main things that made Will & Grace unique. We were on primetime trying to talk about very, very adult things, and the writers had to figure out really clever ways of saying those things without actually saying them. And, as a result, the show just got funnier and sassier. I look forward to doing that again—a lot.
McCormack: It's an odd mix too, because it is such a PC world now, but at the same time it's a crazy post-HBO, post-Netflix world where everyone's seen everything. How do we shock? How do we have that effect that we had before, where we say things that we can't believe anybody got away with, when people are doing it all the time? We're trying to find that balance.
A lot has changed in terms of technology too. Which character is likely most into social media?
Hayes: Probably Jack. [Everyone nods in agreement] It's more Jack's personality to be connected as much as he can to pop culture [and apps like] Snapchat.
Who would be using a dating app?
Hayes: Jack.
Messing: Grace might be into it.
McCormack: That's something we haven't explored. That's fun.
Messing: Grace reentering the world of dating via Tinder! [Laughs]
When you were back on the set, was there a spot everyone gravitated toward?
Hayes: Doughnuts and craft services!
Mullally: I think they've done a really beautiful job of bringing the set into 2017, but it still seems like Will and Grace's apartment and Grace's office.
Messing: Grace's office is pretty exciting. She's moved up in the world.
McCormack: Will's done well and he's hired Grace, so there's a lot of taste in the apartment. But if I'm not in a scene, chances are I'll probably go and just hang in that apartment.
Mullally: The couch!
McCormack: Yeah, the couch. That's been a big couch for us.
Since NBC bumped up the episode order from 10 to 16 and already picked up a second season, there's even more reason to celebrate. What would your character's go-to cocktail be for a toast these days?
Mullally: Still the 'tini for Karen.
McCormack: I think it's the summer of rosé for Will.
Messing: Vodka and lime.
Hayes: Shirley Temple—but with all vodka.
Since we're talking revivals, which show would you love to see come back?
Mullally: The Leftovers. I know it just went off, but that was my favorite.
Hayes: Fawlty Towers.
Messing: I will say Cheers.
McCormack: I'm gonna say Seinfeld for the sheer kick of it. I think about how excited people seem to be that the four of us are together. I'd get excited to see those four people.
Will & Grace, Thursdays, 9/8c, NBC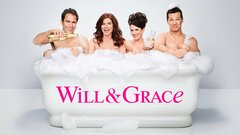 Powered by