'The Mayor': A Musical? Yvette Nicole Brown Previews What's to Come on the ABC Comedy
Behind every great politician is…one tough mother. On ABC's new comedy, The Mayor, young rapper Courtney (Brandon Micheal Hall) was elected mayor of his small town after running as a publicity stunt. His mom, Dina (Yvette Nicole Brown) has become instrumental as a key adviser. "She's the voice of reason," the former Odd Couple and Community star says. "Dina raised him to be responsible. She's horrified that he did this, but she wants to help her son succeed, so she helps him learn how to govern." Brown tells us how.
Dina quickly got on board with Courtney's administration.
The whole thing is, he must decide whether he is going to show up for his community or if he is going to hide from this thing that he caused. And Dina says, "No, you have to show up."
What's their relationship like going forward?
Dina had him when she was 16, so they kind of grew up together. She is his mom, but she is also his best friend, so she can give him some ribbing in a way that other people probably can't get away with.
See Also
Here are three key things you need to know about this new laffer from upstart TV writer Jeremy Bronson
How's your dynamic with Brandon offscreen?
We have a lot of fun. We bonded when we went down to the Essence Festival in New Orleans over the summer and really got to spend time together. Anyone can act like "He's my son," but there's an undercurrent of love and respect between us that we can lean on when we're filming.
How much are you and Dina alike?
My mom was a single parent, so I understand Dina from that aspect. A lot of what I say and do as Dina are little black mom proverbs that I learned from my mother. Also, I personally love politics, so I bring that sensibility. I research everything, and my Twitter feed is lit. If Courtney was my son and he had done this, I would be the person saying, "Let's get to these issues."
Brandon can rap. Costar Lea Michele can sing. Do people break into song on set?
It's not just them! The entire cast is full of musical people. You can throw a dart and hit someone with talent, so I do believe that there will be some kind of musical episode—even if it's a dream sequence.
The Mayor, Tuesday, Nov. 7, 9:30/8:30c, ABC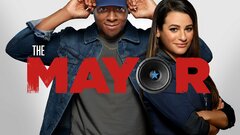 Powered by