'Fast N' Loud' Gears Up for the Ultimate Drag Race Challenge (VIDEO)
When Internet car stars named Roadkill challenge Richard Rawlings and his Fast N' Loud crew to a drag race, there's only one thing to do: accept the challenge and prove they're the best.
But the pressure's on for Rawlings and his Gas Monkey Garage mechanics to work overtime and turn a '67 Dodge Dart into a drag car in just 17 days. The Dart, similar to one that Richard's dad drove on his paper delivery route, now has to be completely tricked out for the drag race in Detroit.
RELATED: New Discovery Series Diesel Brothers Revs With Crazy Stunt Driving
Master mechanic Aaron Kaufman is annoyed about the challenge set by "couple of yahoos who can't do anything other than run their mouths," but no one's about to back down. It's time to step up, and everyone's ready to show they are the team to beat.
Before the all-new episode airs on Discovery Channel's "Motor Mondays," watch an exclusive sneak peek of the challenge and the Gas Monkey Crew's plan of attack.
[jwplatform Q6jUBcuL]
Fast N' Loud, Monday, Jan. 4, 9/8c, Discovery Channel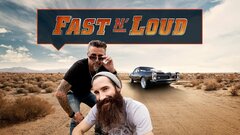 Powered by