'Top Chef' Heads to Colorado for Season 15 (VIDEO)
Bravo's hit series, Top Chef, is back for its fifteenth season, and its 15 new chefs are ready to make their names known in the culinary world. To spice things up, the new season of the Emmy-winning series will take place in Colorado, which offers the chefs breathtaking landscapes and new food scenes to explore.
The chefs will travel to Denver, Boulder, Telluride and Aspen, and have their skills tested by such challenges as deconstructing the Denver Omelet, preparing Rocky Mountain Oysters, and tailgating with the Denver Broncos.
Host Padma Lakshmi and judge Tom Colicchio both return, along with food writer Gail Simmons and chef Graham Elliot.
The new cheftestants are:
Fatima Ali – New York, NY
Tyler Anderson – Simsbury, CT
Carrie Baird -Denver, CO
Adrienne Cheatham – New York, NY
Laura Cole – Denali National Park, AK
Joseph Flamm – Chicago, IL
Rogelio Garcia – San Francisco, CA
Tanya Holland – Oakland, CA
Bruce Kalman- Los Angeles, CA
Brother Luck – Colorado Springs, CO
Melissa Perfit – San Francisco, CA
Tu David Phu – Oakland, CA
Joe Sasto – Los Angeles, CA
Christopher Scott – Brooklyn, NY
Claudette Zepeda-Wilkins – San Diego, CA
Watch the first trailer here:

Top Chef, Season 15 Premiere, Dec. 7, 10/9c, Bravo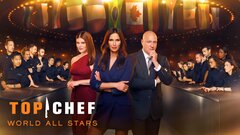 Powered by