'Top Chef' Host Padma Lakshmi Dishes on Former Cheftestants Returning for Season 14
Sure, revenge is a dish best served cold—but what about redemption? That's what we'll find out as Top Chef returns for Season 14 with a tasty new twist: Half of the cheftestants have already been through Bravo's culinary competition before, and they're back to prove that this time around, they have the recipe for a win. Longtime host and judge Padma Lakshmi serves up the scoop.
Eight vets—including heartthrob Sam Talbot and ingredient glutton Katsuji Tanabe—go up against eight newcomers. How much of an asset is that previous experience?
It brings up the question of an advantage, to which I say, there are also athletes who've competed in the Olympics more than once—and it doesn't mean they'll place. Plus, the people who've come back want to make things right, which can lead to overthinking. You're your own worst enemy on this show.
RELATED: Sandra Lee, Ming Tsai and More Celebrity Chefs Give Back in TLC Special
Have the returning chefs improved since their last stints?
In some cases, we did see an evolution—in others, there was a repeat of the same mistakes. It's like, "You're back to your old ways!"
This season is set in Charleston. Please tell us that means the cast of Bravo's soapy docuseries Southern Charm will be involved!
Sadly, I have not watched Southern Charm, but I think a couple of them were mixed into some party challenge that we had. I love Charleston. It was fascinating to find out more about the African-American and Gullah cuisine there.
You, Tom Colicchio and Gail Simmons will be joined at the Judges' Table by chef Graham Elliot. How does he fit in?
He's like a big, cuddly teddy bear—but he wasn't soft about judging. It's great when someone comes in with a fresh point of view. We've all been together for so long that we're kind of sick of each other, so it's nice to have a new person on the playground!
Top Chef, Season premiere, Thursday, Dec. 1, 10/9c, Bravo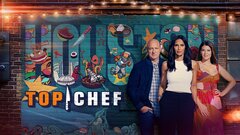 Powered by