'Girl Meets World's Rowan Blanchard Talks Inspiring Girls to Love STEM Subjects
Riley Matthews (Rowan Blanchard) and her friends have already taken on the school board to save their school's art and music programs. Now on this week's episode of Girl Meets World they'll be facing off against inequality in science class—or, more specifically, the lower numbers of girls in STEM (Science, Technology, Engineering and Math) fields.
The episode was particularly meaningful to Blanchard, as it was shot the same week she spoke to the UN about gender inequality, one of the many issues 2015's "Feminist of the Year" cares about.
"I love hearing about political things and learning about how I can make the world a better place," says Blanchard, of her commitment to raising awareness. "I do school, act, and go home and watch [the news] for two hours. That's what I like to do. That's what it's always been!"
With such an academically-significant episode coming up on the show, we spoke to Blanchard about the episode, high school and Riley's own scholarly interests.
What can you tell me about "Girl Meets STEM"?
I'm so excited for this episode! "Girl Meets STEM" is about how there are lower statistics of girls, teenagers especially, in STEM fields. We talk about that because they're all doing a science project and the teacher's like, "Okay, the girls just sit there and write notes down while the boys do all the work." Riley finds that very striking because Riley doesn't like being told by anybody that she can't do what anybody else can. So they take that [issue] up.
How is Riley at science? Does she have a particular aptitude for it?
Riley's definitely interested in science. I mean, we only see her in one science class for the entire season. She's definitely driven by the idea that there are less girls, and she just wants to change that.
RELATED: Rowan Blanchard On That "Messy Situation" With Maya and Lucas
We know that Maya's good at Art and that Riley is good at school in general. But does she have a favorite subject?
If there was one, it would probably be History, with her dad. I think Riley really enjoys learning about the past and what happened and how it affects today. Overall, she enjoys all the subjects equally. She loves Art. She just can't do it. [Laughs] She just wants to draw purple cats. You know, that's her.
How does she feel about her dad teaching her History class now?
In the first few episodes of Season 1, it was difficult for her to adjust to it. Now it's kind of a thing where she's almost comforted by the fact that he's always there. Even if she says "Eew!" or makes fun of it, deep down she loves having him there.
High school is coming up soon. How do Cory and Topanga feel about Riley going into high school next year?
Topanga's much more okay with it than [Cory] is. He doesn't like the idea of anybody growing up, but Topanga gets it. She's obviously a girl and she grew up going to high school and having crushes. So [she] is much more okay with it.
Watch an exclusive clip from the next episode below, where Topanga encourages Riley's friends to pursue STEM subjects.
[jwplatform d0jkbrh7]
Girl Meets World, Returns Friday, Jan. 8, 8:30/7:30c, Disney Channel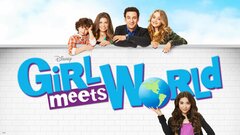 Powered by