'Girl Meets World's Rowan Blanchard on Riley's Big Decision About Lucas
Girl Meets World has grown a lot since it's first season, and over the course of its second season, the Emmy-nominated show has tackled issues like bullying, death and forgiveness. And the wide range of topics is something that Rowan Blanchard, who plays Riley Matthews, the show's titular "girl," is proud of.
"I especially liked 'Girl Meets I Am Farkle' where we talked about autism and Asperger's [syndrome]," says Blanchard of the Season 2 episode that saw Farkle Minkus (Corey Fogelmanis) deal with possibly being diagnosed with the neurodevelopmental disorder. "I grew up with a lot of kids who have autism, and I feel like we did the episode a lot of justice. Those kids definitely have this show now to look at and feel represented."
Friday's holiday-themed "Girl Meets New Year" focuses on another topic that viewers will be able to relate to: love. Riley forced to make a decision in regards to her feelings for her friend Lucas (Peyton Meyer)—who her best friend Maya (Sabrina Carpenter) also has feelings for.
Ahead of the episode, we spoke to Blanchard about friendship, growing pains and Riley's big decision.
So, tell me about the episode.
"Girl Meets New Years" is "Girl Meets Texas: Part 4" in a way. Riley obviously has suppressed her feelings about Lucas in order to give Maya a chance, the same thing that she gave her. But Farkle knows that she's lying [to Lucas and Maya and] to herself and [he] doesn't want her to lie to herself and treat herself like that. He basically gives her an ultimatum, that by midnight she has to say her true feelings, or else he will. So we see what happens with that.
How does Riley feel about that considering that revealing her feelings is no longer in her control and Farkle's put a deadline on it?
Riley's extremely overwhelmed with that because that's horrifying, knowing that someone is going to tell your secrets by midnight unless you do. And Riley's very vulnerable in a way because she definitely wants Maya to be able do what she wants, but at the same time Riley just doesn't want to be able to be good to herself. Farkle sees that and gives her an ultimatum.
In any other situation, Riley would have gone to Maya. How is she coping without having her best friend to talk to?
Riley's extremely isolated. She can't talk to Maya or Lucas about it. She can talk to Farkle about it, but only so much. You don't talk to your parents about that stuff really so it's a very isolated place for her. And she's a people pleaser so she just wants to please everybody else and forgets about herself. So we'll see what happens!
Putting her feelings for Lucas on a back burner is such a big decision. How do you feel about her doing that?
I thought it was a very interesting way to do it. Obviously you can talk about a love triangle on TV a lot of times and you've seen it a lot. But I think the way we did it is very interesting [where] Riley is going to suppress her emotions so that Maya can have a chance [with Lucas]. It wasn't just the back and forth love triangle, it was more like one person is going to take it on [themselves] to cut off any romantic feelings for one person… or pretend to. When I read it, I definitely liked how we did it because it was interesting and fresh.
I thought it was sweet because it felt like she was picking her friendship with Maya over Lucas in a way, which was great to see.
One of the things we've tried to emphasise on the show is that relationships aren't limited to romantic ones and you can have a friendship that is just as powerful, if not more powerful, than any romantic relationship. I think that's what the episode is about in the end, Riley and Maya's friendship and how it kind of defies all odds.
How does Riley feel about the New Year? Because high school is coming.
It's a weird transition going from middle school to high school. I'm doing it right now. It's weird because you go from middle school and eighth grade [where] you're the "adults" to high school where you're back to being the baby again. [Laughs] It's weird. All of the kids are really scared for the New Year I guess, because it brings new feelings. When you like someone in high school, I feel like you can really go on dates, whereas in middle school it's still a crush. But in high school it's more of this serious thing.
Is Riley thinking about that at all? Or is she more focused on fixing her friendship with Maya?
The girls know it's an unavoidable topic. But it's also this thing where they know that no matter what, they'll still be best friends. I think that Maya and Riley's relationship is the main relationship on the show because it's the greatest one in their worlds. Riley is thinking about it in the sense that it's unavoidable, but at the same time it's not her main priority.
What are you excited for people to see in this episode?
One of my favourite scenes is towards the end. I can't say what that is. But this episode was kind of a whirlwind because the original plotline involved an actor who wasn't able to be on set that week. The actor, who plays Josh, got into a motorcycle accident and that week he was in the hospital, so we had to write him out the day we were filming. It was crazy. You still hear the name "Josh" in the episode, but that's partially because we didn't know whether or not he was going to be on set that week.
RELATED: Here's What Finally Happened on "Girl Meets New Year"
Girl Meets World airs at 8:30/7:30c on Disney Channel.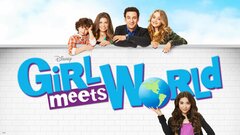 Powered by