Team 'Scorpion' Rallies to Save Christmas (VIDEO)
https://player.waywire.com/?id=6KJHBG0XMZV6WM36
This Christmas, Team Scorpion will find themselves in the middle of a dam nightmare.
The December 14th episode of the CBS procedural finds the team of geniuses racing against the clock to save a town from being flooded on Christmas Eve. "Violent rainstorms cause a nearby dam to fail," says executive producer Nicholas Wootton. "A crack in the dam face is widening dangerously, so Cabe (Robert Patrick) is lowered down to plug it with a Scorpionized sealant."
In the exclusive clip above, Walter (Elyes Gabel) preps adhesive while Cabe reaches perilous new heights during his descent down the dam.
Scorpion airs Mondays at 9/8c on CBS.
RELATED: 17 Holiday Episodes to Make the Season Merry and Bright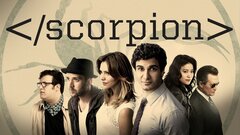 Powered by