Hawkman Arrives: Falk Hentschel and Andrew Kreisberg Preview His Debut in 'The Flash'-'Arrow' Crossover
The second annual The Flash and Arrow crossover will introduce audiences to a new face: Carter Hall (Falk Hentschel), AKA Hawkman, who will then play a part in the upcoming CW series, Legends of Tomorrow.)
When viewers meet Carter, he's very aware of his long history—he and Kendra (Ciara Renée) began their lives in ancient Egypt, and have been reincarnated many times since then. Complicating matters is the fact that an immortal villain, Vandal Savage (Casper Crump), is out to get them…but unfortunately for Kendra, she has no awareness of her past lives.
"They come as a team, Carter and Kendra and I think that's what I enjoy most and I think is the most fun – their dynamic," Hentschel told reporters. "In my mind they're like a bickering old couple. And he's gone through 4,000 years of loving her and having her love him back so there's just fun [there]. She doesn't know about it yet, though, so there's always this fun dynamic of him being like, 'You'll love me! It'll be good! I've seen it.'"
RELATED: Why the Flash/Arrow Crossover Will Be a Jaw-Dropper
"There was that Channing Tatum movie [The Vow] where his wife got knocked in the head and she didn't remember their lives," Arrow/Flash/Legends of Tomorrow executive producer Andrew Kreisberg said. "That's what it always sort of reminds me of. I think one of the things I love about watching [Carter] is he literally has the patience of that guy in that situation. That he has to [acknowledge], 'It's gonna happen, it's gonna come.' But there's a sadness about the whole thing, because he knows how great it can be and how sad it is for him to look at her looking at him like he's a stranger."
That isolation leads to another element of grief/concern for Carter. "I think underneath it, [he's] terrified, always, of losing her," Hentschel noted. "Imagine you've seen everyone that you know die. It's pretty lonely and here's that one person that is always constant."
The Flash airs Tuesdays at 8/7c and Arrow airs Wednesdays at 8/7c on The CW.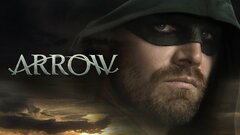 Arrow
where to stream