Hawkman Is Here: Falk Hentschel Cast as the Winged Warrior
DC's latest small-screen superhero has been cast: actor Falk Hentschel will take on the role of Carter Hall—better known as Hawkman.
Hawkman will debut in crossover episodes of Arrow and The Flash, before continuing his story on Legends of Tomorrow, which arrives midseason this fall.
According to his character description:
Falk will play Carter Hall, the latest reincarnation of an Egyptian Prince who is fated to reincarnate throughout time along with his soulmate, Kendra Saunders (played by Ciara Renée). Like Kendra, Carter can access the powers of the Hawk God, Horus, transforming him into the winged warrior known as "Hawkman."
Hentschel played Arliss on CBS' series Reckless, and has had roles on Agents of S.H.I.E.L.D. and The Closer, but got his start on Arrested Development—as one of the Hot Cops.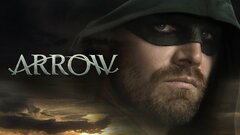 Arrow
where to stream