Vandal Savage Has Been Cast for 'Legends of Tomorrow'
Add another name to the list of actors joining the DC Comics television world. The villainous Vandal Savage will be played by Danish actor Casper Crump, first in crossover episodes of Arrow and The Flash, then as a recurring character on upcoming series Legends of Tomorrow.

The character description reads:
Vandal Savage is immortal, having spent the past 6,000 years moving like a virulent disease through history, whispering in the ears of despots and dictators, all leading to his eventual domination of the world.
Crump, 38, is a newcomer to American television, though he did have a role in an episode of The Killing's second season, and he'll be seen next year in David Yates' Tarzan movie starring Alexander Skarsgard, Christoph Waltz, Margot Robbie and Samuel L. Jackson.
He's the latest addition to the Arrow/Flash/Legends world; yesterday, we learned Falk Hentschel had landed the role of Hawkman. Legends won't premiere until midseason, but we got a peek at this year's CW upfront presentation and we talked to Brandon Routh, Wentworth Miller, Caity Lotz, Victor Garber and the rest of the show's team at Comic-Con last month.
We also got Lotz, Franz Drameh, Arthur Darvill and Ciara Renee to tell us what to expect from the series:
[jwplatform Q8jAr5W7]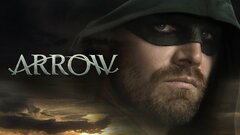 Arrow
where to stream