Weird Al Yankovic Gets Animated on 'Teen Titans Go!' (VIDEO)
Darkseid is the most menacing villain in the DC Comics universe. Until he meets the Teen Titans, that is.
In the second half of this week's special two-part episode of Cartoon Network's Teen Titans Go!, the young heroes of the popular superhero comedy face off against the godlike despot from the planet Apokolips to save the Justice League. (The sidekick squad is decked out in the League members' costumes following a visit to the Hall of Justice in the first half.)
To hit just the right note of humor the producers recruited satirical music man "Weird Al" Yankovic to provide the voice for the notorious warlord. Or, more precisely, voices, as this exclusive clip reveals.
[jwplatform p0ctjm48]
Teen Titans Go!, Wednesday, Nov. 25, 6:30/5:30c, Cartoon Network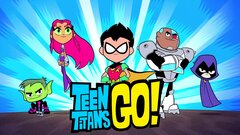 Powered by