'Teen Titans Go!' Makes Some Noise With 100th Episode
They grow up so fast. The young superheroes of Cartoon Network's Teen Titans Go! are hitting their 100th episode this week—a little more than two years after they launched. The wildly popular comedy—a whimsical take on the DC Comics team—has exploded since premiering in April 2013, and this year it ranks as TV's No. 1 animated program among kids age 6-11.
After a test run as a series of shorts in the network's DC Nation block (and coming off a pedigree from a slightly more serious series that ran from 2003-2006), the show has become such a staple for the channel that producers have been cranking out episodes at a superhuman rate. "The schedule we're on is insane," says Michael Jelenic, who produces the show with Aaron Horvath for Warner Bros. Animation. "We've pretty much been popping out an episode a week for the last two years, and I think for the next years we probably will to. It's an unprecedented case for a children's show to be going this fast."
It helps that the cast of voice actors—Greg Cipes (Beast Boy), Scott Menville (Robin), Khary Payton (Cyborg), Tara Strong (Raven) and Hynden Walch (Starfire)—have been working together for a dozen years and have perfected their comedic chemistry. Plus the producers have never taken themselves too seriously—in fact they've had fun addressing the complaints of some comic book purists that the show is too carefree.
The milestone episode (airing Friday, July 3 at 6/5c) wasn't actually planned as a big celebratory event. But producers Michael Jelenic and Aaron Horvath are still hoping to make some noise with the installment—quite literally. Titled "And the Award For Sound Design Goes to Rob," the plot was conceived as a way to put the spotlight on the show's sound designer, Rob McIntyre. "A magical being removes all the sound from the world and the Titans have to replace it with their own sound effects," Jelenic explains. "In the second half of the episode, every single sound effect is created by one of the members of the cast, even the music score, all in the hopes of getting Rob a sound design award."
But there's no time for celebration—Jelenic's says the crew did little more than indulge in some pizza after storyboarding the 100th—as they are hard at work on more episodes—including a fall two-parter guest-starring "Weird Al" Yankovic as the voice of Darkseid, one of the most fearsome villains in DC lore. "Since the show is performing so well, Cartoon Network wants a new episode every week," Jelenic says. "They're gonna ask us to deliver them as fast as we can until we fall apart. It's been a crazy pace and ride."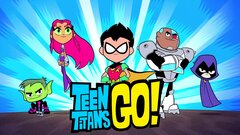 Powered by