Roush Review: The New 'Dynasty' Is Just Nasty
Once upon a 1980s time, there reigned a primetime soap opera that hit all of the campy high notes of the Reagan era: a veneer of opulent glamour (with shoulder pads and high hair the vogue) amid arch melodrama, with corporate scheming and discreetly sexual shenanigans as its bread and butter—or should we say, given the setting, caviar and canapés.
That was Dynasty then, and in a period where everything old is new again—sometimes with positive results (the Will & Grace revival), more often not—The CW merely puzzles with its sordid reboot, tailored for a vulgar Real Housewives and Trump Tower sensibility. Who is this even intended for? The network's young-ish target audience, which previously shrugged off mediocre exhumations of Aaron Spelling hits 90210 and Melrose Place, isn't likely to remember a show that predated even those chestnuts. And those who harbor any nostalgia for the original Carringtons and Colbys may be put off by the new-but-not-improved version of these once-iconic characters.
Remember TNT's ill-fated Dallas remake, which at least recaptured some of the vibe until the late Larry Hagman was no longer able to carry on J.R.'s legacy? The new no-class Dynasty shows only contempt for what came before. (If you listen closely, you can hear the original theme song in a video flashback, played on the piano by a kid version of gay-even-then Steven Carrington. It's an improvement over the snide in-joke cut from the original pilot.)
It's as if everyone were cast solely for the ability to smirk and snark. Not that Dynasty was ever meant to be taken seriously, and it's understandable, even laudable, to give the ensemble a younger and refreshingly multicultural look. But the self-satisfied sneering of these smarmy privileged putzes in their private jets, luxury cars and mansions is pretty much the opposite of a turn-on.
We're not talking class envy here. More like crass exhaustion. Were these literally filthy-rich jerks weaned on Bravo?
You might think so, as a barracuda Fallon Carrington (Elizabeth Gillies), daughter and would-be heir apparent, narrates the power-is-everything opening sequence, which includes some backseat hanky-panky with her hot chauffeur. Upon arriving home for a presumed promotion, she's instead confronted with an ambitious stepmother-to-be, Cristal (Nathalie Kelley), who's being tended to, Harvey Weinstein-style, on a desktop by her boss and future husband, mogul Blake Carrington (Melrose Place stud Grant Show, who must be sipping from the same eternal-youth elixir as the Will & Grace cast).
Back in the day, Dynasty worked up to its catfights, which could make front-page tabloid news when the likes of Joan Collins and Linda Evans got down in the mud. The new series goes there before the first episode is over, with Fallon and Stepmommy Dearest tearing clothes and hair with mechanical aplomb. "Bite me, Cristal." "Please, call me mom." Dialogue to roll one's eyes over.
Bonus points, however, for transforming the slutty Sammy Jo from a white-trash Heather Locklear to a gay hustler (Rafael de la Fuente) with an eye for Steven (James Mackay), who's the Carrington black sheep not because of his sexuality but because he's a tree-hugging liberal. Even that twist, however whimsically inspired, comes off tacky by the end.
There may yet be hope for Dynasty 2017. The original series only truly caught fire with the introduction of Collins as queen bee Alexis in the second season, and the casting of this pivotal character is the new series' most preciously guarded secret. (As is the timing of her arrival.) We'll reserve further judgment until then. For now, though, it seems the new Dynasty is willing to settle for trading in crude oil.
Dynasty, Series Premiere, Wednesday, Oct. 11, 9/8c, The CW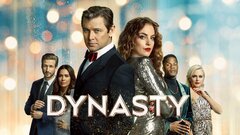 Powered by