7 Reasons Why 'Crazy Ex-Girlfriend' Should Be Your Non-Guilty Pleasure Show
Sure, it was a bit embarrassing to admit you liked watching Glee back in 2008 when it first came out, and now perhaps you're facing the same wave of embarrassment again with Crazy Ex-Girlfriend.
But do not fret—as the series begins its third season on Friday, here are 7 solid reasons to convince you that the only shame you'll feel watching this is the shame that you haven't convinced everyone you know to watch this show, as well.
1. The explicit, tabooed—but super-relatable—humor
"The Sexy Getting Ready Song" is one example of how the show enhances experiences and topics about which you would never think to watch an entire musical number. Despite the initial eyebrow raise, you get it: Getting ready for a night out and waxing places that don't see the sun is not as sexy as every TV show or movie makes it out to be.
2. All of the characters evolve, not just Rebecca
The show revolves around Rebecca (Rachel Bloom), but viewers also see minor characters change in major ways in addition to Rebecca's growth. Paula (Donna Lynne Champlin) is a mother figure to Rebecca in addition to being her best friend, which allows the show to dive deep into how her friendship with Rebecca puts a strain on her career and relationship with her husband. Viewers also see how Josh (Vincent Rodriguez III) and Greg (Santino Fontana) grow as individuals and not only as Rebecca's love interests. Heather (Vella Lovell), whose initial purpose was to belittle Rebecca and comparatively highlight how old she is, eventually became closer to Rebecca and found her passion to be a spokesperson for a douche product.
3. Rachel Bloom breathes talent
Besides the crazy part, Rachel Bloom shares a lot with her character on TV, like her charming and adorable personality. Additionally, the two have incredibly strong work ethics. Before creating, writing and starring in Crazy Ex-Girlfriend, Bloom was the head writer/director of NYU Tisch School of the Art's sketch comedy group, performed at Upright Citizens Brigade Theater in New York and Los Angeles, released two albums and 17 music videos and guest-starred in several TV shows. Deservingly, Bloom won a Golden Globe Award for Best Actress in a Television Musical or Comedy. You go, girl!
4. Chock-full of diversity
The cast is packed with diversity: an Asian male romantic lead, a bisexual character who's entire personality doesn't revolve around his sexuality, a Jewish lead female, and this list goes on. The musical numbers are also diverse in genres. The Crazy Ex-Girlfriend soundtrack includes genres from screamo ("What a Rush to Be a Bride") to rap battle ("JAP Rap") to a dramatic female belt ("After Everything") and more.
5. Realistic depiction of relationships
Relationships are tumultuous in nature, but Crazy Ex-Girlfriend also addresses the nuanced parts of relationships that romantic comedies never do. When Josh and Rebecca are finally on the same page and sing "We'll Never Have Problems Again", referencing their fake happy ending, Heather points out that they're delusional, but they choose to ignore their inevitable fights anyhow. Viewers also get to see the stresses on married life with Paula and her husband's relationship as they face Paula returning to law school and her unexpected pregnancy.
6. The shocking twist
We don't want to give any spoilers, but the twist at the end of the Season 2 finale blows up the world we thought West Covina was—and no one saw it coming. If you rewatch old episodes, there are so many signs that point to the twist. The fact that we didn't suspect anything close to the reveal proves the quality of the writing and plot development.
7. It's a new "Fish-Out-Of-Water" story
Rachel Bloom told Jimmy Kimmel in an interview that the show was created to be a fish-out-of-water story, but what's different is that this suburb isn't your typical random Midwestern town or Jersey neighborhood. West Covina is as mundane as Southern California gets (and a 4-hour drive from the closest beach) but as Bloom describes, Rebecca's love for Josh "turns the most unremarkable place into the Garden of Eden," revamping the stereotypical fish-out-of-water story.
Crazy Ex-Girlfriend Season 3 Premiere, Friday, Oct. 13, 8/7c, The CW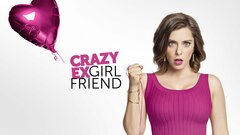 Powered by