'Nightwatch' First Responders Deal With the Dark Side of Mardi Gras (VIDEO)
https://player.waywire.com/?id=CVC7DS09Z669J34C
Mardi Gras is fun and games for most, but for the overnight first responders in New Orleans, it's one of the busiest times of year.
Nightwatch, Dick Wolf's reality series about EMTs in New Orleans, returns for a second season Thursday to follow the New Orleans Emergency Medical Services teams as they're dispatched to save lives between 8 p.m. to 4 a.m.
In this exclusive clip from the season premiere (above), EMTs Titus and Dan help a man who was stabbed multiple times during the festivities.
RELATED: Dick Wolf's Cold Justice: Sex Crimes Is Also Coming Soon
The partners are also kept busy when they must also help an 18-year-old shot in the head, while Keeley tends to a man whose hand was impaled on a fence. Meanwhile, a pair of armed suspects involved in a robbery lead Randy and Devin on a high-speed chase.
Nightwatch, Season premiere, Thursday, Nov. 5, 10/9c, A&E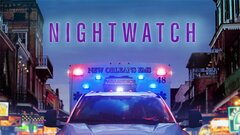 Powered by