Why 'Quantico's Alex Parrish Is One of TV's Kick-Ass Women
There are plenty of lethal ladies dominating TV with their strength, smarts and superhuman skill sets. For a special kick-ass woman feature, we rounded up some empowering and resourceful women on TV now. See more Kick-Ass Ladies Taking Over Primetime TV and find out our poll results for the Most Kick-Ass Woman in TV History.
---
American audiences may not have heard of Priyanka Chopra before she took on the role of tough-as-nails FBI trainee (and suspected terrorist) Alex Parrish on ABC's twisty thriller Quantico. But in her native India, the 33-year-old actress is a former Miss World turned Bollywood superstar. She's made over 50 films while juggling a successful recording career: Pitbull and will.i.am have appeared in her music videos, and just two weeks after Quantico premiered in the States, she won Best India Act at the MTV Europe Music Awards. We talked to the multihyphenate about her incredible career and whether her character, who kicks ass and takes names, will ever clear her own.
Being the star of an intense, complex drama like Quantico means a lot of long, grueling hours on set. But you're clearly a workhorse, considering your extensive résumé over the last 14 years. Aren't you exhausted?
I'm a machine! I can make four movies a year. I like to work extra hard because I do love my job. To me, Quantico seems like a really long movie. The difference is that in features we do maybe two scenes a day, and now I'm doing nine!
Alex has been on the lam since the premiere episode, when she became the primary suspect in the bombing of New York City's Grand Central Terminal. Is she any closer to figuring out who's framing her?
At this point, her trust has been breached by most of the people she knows. So she's following the evidence on her own and using everything she's learned at Quantico [to exonerate herself]. She was known at the training academy for trusting her instincts to come out on top. She's trying to remember every clue she may have seen or heard.
She also gets into a lot of physical fights. Do you like that part of the gig?
I really enjoy it. I think God originally intended to make me a boy. I enjoy doing lots of things typically meant for a man.
You must have to keep in shape for all those stunts, right?
I'm so busy with the show, there's no time to go to the gym. But right before I joined the series, I trained to play a police officer in an action movie. And I played a boxing champion in another film that was released last year. So I was very well equipped to handle all the action sequences on the show.
How did you feel about Alex hooking up with undercover FBI agent Ryan (Jake McLaughlin) in a car within the first 10 minutes of the pilot? Bollywood films are not particularly known for having risqué sex scenes.
There's been some change in India with regard to that since there's so much entertainment from the West available now. But romantic scenes on network television are always more aesthetic [than gratuitous]. That's one of the reasons I did a show with ABC and not cable.
You don't want to do nude scenes?
I don't know if I'd be comfortable doing that. As I go along [in my career], I'll figure out what my boundaries are, but I've not felt the need so far. Now, that doesn't mean you can't play bold or brave characters. Alex is unapologetic and has a different perspective toward relationships than I do. [Laughs] But that scene was more about portraying her boldness than about the sex.
You're the daughter of two doctors. How did you end up getting into show business?
My mom sent some pictures a photographer had taken of me for a scholarship application to Miss India without telling me! So I went to the pageant and I won, and then I went to Miss World and I won, and then movie offers started to come my way. I had to start believing in myself that I could act.
Does it sometimes feel like a dream that a former teenage pageant queen from India is now the lead of a hit U.S. TV series playing a strong-willed FBI agent?
No, because it was a lot of hard work. People think it's all light and fun and glam, but I've worked very hard to get here. It is something of a scary situation, though.
Why scary?
I've been acting in India for over 14 years and now I'm suddenly the new face on the block. I feel like a freshman in school and I've come from another country. Everything is new and exciting, but I'm also very far away from home and for a long duration, so it's a mixed bag.
What do you miss the most about making films back home?
I get withdrawal symptoms when I don't do a dance film for a while. In America, you like superhero movies. We like music and dancing. A lot of our storytelling is through music.
Is this your first acting job in English?
Yes. I grew up with English as my second language, but sounding American on Quantico is not easy. Most of my films have been in Hindi.
Bollywood films are popular around the world. Why has it taken so long for an Indian star to cross over to American TV?
Maybe before me no one really tried. Indian actors get so much love that they don't often look to do something else. For me, it's a way of expanding myself as a creative artist, so that's exciting. I'm glad it's happening with me! [Laughs]
You're shooting Quantico in Montreal. Will you be able to kick the Canadian winter's ass?
Oh, stop! I'm from the tropics. I'll break!
Quantico, Sundays, 10/9c, ABC
[jwplatform LpvG1HFk]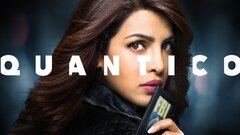 Powered by