Is It Too Soon for 'Bobbi Kristina' TV Movie? Its Stars Say No
If you think you know the life story of Bobbi Kristina Brown leading up to her shocking and tragic death at the age of 22, think again.  TV One's new made-for-TV biopic, Bobbi Kristina, (Sunday, Oct. 8, 8/7c) shines a light of the life and death of the only daughter of Whitney Houston and Bobby Brown.
It dives deep into the kind of relationship she had with her parents, as well as her controversial relationship with boyfriend Nick Gordon. The film doesn't shy away from the struggles Krissy faced as a young woman in the spotlight, instead choosing to tackle them head on.
TV Insider spoke with the film's stars, Joy Rovaris (Bobbi Kristina) and Hassan Johnson (Bobby Brown), about why they hope that fans keep an open mind while watching the movie.
Was it challenging getting into character? Joy Rovaris: Everyone took it so personally I think because they all adored the family already. When we came on board it was almost fate, how we all just clicked. We took it very seriously, very passionately from day one. The cast bond was unreal.
Hassan Johnson: I don't think it was difficult to get in to it because we love [the Browns] so much.
Rovaris: If anything, it was harder to get out of character.
Is it different playing an iconic, real-life person?
Johnson: Yeah, these aren't character so to speak. You can't really embellish so much. You can't really do what you want to do. You have to be spot on. It's way more sensitive.
Rovaris: You want to be extra careful to make sure you get as close to the truth as possible. Everyone feels like they knew this family.
What type of research did you do for these roles?
Rovaris: For me, I watched all of Being Bobby Brown with new eyes. I looked at Whitney and Bobby as if they were my parents. Looking at the stories we already know and the tabloids and all of that but with new eyes of "that's my mom and dad." I used everything available online and I was able to speak with some of Krissy's best friends and that was really, really humbling.
Did you speak with any family members?
Rovaris: Her best friend at the time she passed, Alex Reed. One of my most educational conversations, she told me Krissy called her a couple days before she passed from a closet and she and Nick had just been in a really bad fight. Alex stayed on the phone with [Krissy] for three hours trying to comfort her. She shared that conversation with me and what they talked about. I felt so honored and so humbled to have had a close, intimate moment shared with me.
Johnson: Unfortunately, I didn't get the chance to consult with anyone, especially Bobby. But Bobby and I have had previous encounters leading up to this so it makes you feel like you have to represent him right.
The tragedies are still fresh for a lot of people. Do you think more time should have passed before making this movie?
Johnson: If more time would have happened, what more justice would it really do for anybody?
Rovaris: It's a story about Bobbi Kristina and one of the things that I kept seeing over and over again was her saying, 'I just want the world to know the real me. I want them to know my story.' She felt like her portrayal on reality TV wasn't her. So, once I got this script and I understood what this story is, there is no better timing to give her justice. I feel like the longer you wait, the sadder it is. This [movie] is something honorable to them. We did it with passion and love and respect.
Johnson: Really simply put, Krissy passed too soon. So how is us telling her story too soon?
Do you think the movie does a fair job depicting the love in the family as well as the dark times?
Rovaris: Absolutely, it's Bobbi Kristina's story. It's the things between Whitney and Bobby through her eyes as a little girl. You do see [Krissy] turning to drugs sometimes as a coping mechanism, but I think more than anything you get a sense of the intense love that this family had. You see the lows and you see the highs and you see why Krissy made certain decisions. It becomes a very relevant story of young people today in abusive relationships and not knowing it because abuse comes in so many different forms. Hopefully, it'll be an eye opener for anyone in a similar situation.
Bobbi Kristina, Sunday, Oct. 8, 7/6c, TV One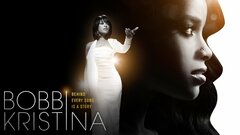 Powered by