Melissa Benoist Is Ready for Takeoff on 'Supergirl'
Even for Supergirl, time flies when you're having fun.
"It's crazy. I went in for this the day after Halloween last year," a smiling Melissa Benoist recalls of her audition for Supergirl, CBS's bright new superhero show about the Man of Steel's equally fortified cousin. "I thought there was no chance—I had brown hair," and the DC Comics character is well known for her blonde locks. "I'm just a weird girl, and I think they liked that."
It's impossible not to like Benoist. Sitting outside her trailer on the Warner Bros. lot in Burbank, California, while she plays with her dog, Farley, the newly blonded 27-year-old Littleton, Colorado, native is as effortlessly attractive as she is approachable. Her down-to-earth vibe is refreshing and a tad startling, given her high-profile gig on one of this season's biggest gambles. After all, Supergirl—which finally takes off on October 26—is the first comic book-based, female-driven superhero drama on television since The WB's short-lived Birds of Prey in 2002; the character's 1984 big-screen debut was a dud; and it's not airing on The CW, home to DC Comics' current TV crown jewels, Arrow and The Flash.
Thankfully, the superfriends behind those heroic hits are the ones bringing Benoist's Kara Zor-El, last daughter of Krypton, to the airwaves. Indeed, DC Entertainment and Warner Bros. knew exactly who to ask about adapting another icon. "One of the executives mentioned the character of Supergirl," says Greg Berlanti, teaming again with his Flash and Arrow executive producers Andrew Kreisberg and Sarah Schechter, along with Glee's Ali Adler, one of his cohorts on the relatives-with-powers dramedy No Ordinary Family. "[But] they saw the show more as her without a cape, a teenage-girl-growing-up-on-a-farm kind of thing." Not interested in doing Smallville: The Training-Bra Years, Berlanti and Co. pitched a more adult origin story with "the same size and scope as The Flash and Arrow but with its own adult identity. CBS loved it, and we got a show!"
RELATED: First Look: Supergirl Stands Tall Thanks to DC Collectibles Statue
Introduced in a 1959 issue of Action Comics, Kara has a backstory similar to her more famous kin. "She was 12 years old when Krypton was destroyed, and she escaped the destruction at the same time as her infant cousin," Benoist explains. In the Supergirl premiere, she is sent to Earth by her parents, Zor-El (Robert Gant) and Alura (Laura Benanti), to watch over baby Kal-El, "but she gets stuck in space for a long time, and when she gets to Earth, he's already matured. So she makes this decision that since Earth already has a hero, she doesn't need to use her powers."
Instead, Kara blends in as the adopted daughter of the Danvers (in a fun nod to the mythos, they are played by big-screen Supergirl Helen Slater and Lois & Clark's Dean Cain), a family of scientists in the fictional and very Los Angeles-like National City. With a protective adoptive sister, Alex (Chyler Leigh), and the kind of glasses that have been known to hide secret identities, the Kara we meet in the pilot has grown up to become a sweetly nerdy assistant to media maven Cat Grant (Calista Flockhart) with undeveloped powers and no clue that her CatCo colleague Winn (Jeremy Jordan) has it bad for her.
RELATED: 7 Actors Who Went From Superheroes to Superparents
Of course, even superheroes in denial can't sit still when a plane carrying a loved one is about to go down, so before you can say, "It's a bird…," Kara takes to the friendly skies to rescue Alex. In the process, she attracts all sorts of attention—most notably from Hank Henshaw (David Harewood), head of the Department of Extra-Normal Operations, a shadowy government organization, and one James Olsen (Mehcad Brooks), who has been deployed from Metropolis by Supes himself to play Obi-Wan to the fledgling hero.
Not that she needs a man to save the day. Or a Superman. While plenty of DC characters, like Lucy Lane (Jenna Dewan-Tatum), Red Tornado (Iddo Goldberg), Maxwell Lord (Peter Facinelli) and Kryptonian villain Non (Chris Vance), are set to appear, the oft-mentioned boy scout in the sky is most definitely not one of them. "I compare him to Veep's [unseen] president," Berlanti jokes. "He is out there and Metropolis exists, but hopefully, people watching the series will quickly go, 'We don't even need him!'"
RELATED: A Who's Who of the Supergirl Squad
All Supergirl really needs is for viewers to see past the whole "girl" part. "Ultimately, what we want to do is appeal to everyone," Schechter offers. "The notion that guys won't watch girls has been completely destroyed by things like Frozen and Mad Max: Fury Road. For us, this is just a show about an incredibly interesting character going through something exceptional."
Adler echoes that equal-rights-for-equal-flights sentiment. "The Supergirl property is the gold standard for female superheroes, but in watching the action and what Kara comes up against emotionally, you go in seeing a female superhero and you come out seeing a powerful superhero. Her gender doesn't really matter. Ultimately, it's just about this triumphant person."
What did matter, however, was finding an ingenue capable of convincingly rocking a caped ensemble designed by Oscar winner Colleen Atwood (who also created the looks Stephen Amell and Grant Gustin sport on Arrow and The Flash), battling an array of aliens-of-the-week unleashed by Kara's arrival on Earth and balancing comedy, drama, action and adorableness. For that magic combo, the producers turned to the unsung hero of DC Comics' growing TV dynasty, casting director David Rapaport.
"We saw thousands of people, but I will say that all credit goes to David," Schechter says of the man we have to thank for stocking The CW's hero brigade. "He had a really good feeling about Melissa, just like he had a really good feeling about Stephen Amell and Grant Gustin." And just like those two, Benoist—best known for her role as Glee's sweet, shy Marley Rose—was the first to read for the role. "David actually made Melissa come back early from a trip and signed her in himself so she would be first because he knew that Greg is a little bit superstitious," Schechter says.
"She is the female Grant," Kreisberg adds. "Watching them on set, it's not just the talent or how they inhabit the part; it's their joy and enthusiasm that they get to do this, which is in a way who these characters are."
Walking back into the soundstage to film the first scene with Jordan, Brooks and Leigh in what will become Team Supergirl's secret CatCo control room, Benoist still seems genuinely astonished that she gets to do this for a living. "I love Kara," she says, exuding the same sunny determination as the character. "She truly believes that she's going to change and save the world. And I think she's going to do it."
Attagirl!
[jwplatform SZaITtTy]
 Supergirl, Series premiere, Monday, Oct. 26, 8:30/7:30c, CBS | Timeslot premiere: Monday, Nov. 2, 8/7c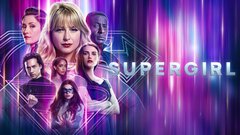 Powered by