'Supergirl': Finally, a Female Superhero Suits Up to Save the World
It's a bird! It's a plane! It's…about time a female superhero from the DC Comics Universe got her own TV show! On the heels of The CW's Arrow and The Flash—and from the same producers—comes Supergirl, a new action drama about Kara Zor-El (Melissa Benoist), a Kryptonian sweetheart sent to Earth to watch over her very famous cousin. "When we meet her [in the pilot], she's been living as an Earthling and hasn't used a lick of her powers for 12 years," explains Glee vet Benoist. Kara is now 24, working in the L.A.-ish National City as a low-rung assistant for media mogul Cat Grant (Calista Flockhart).
Thanks to a series of comic book-caliber events, a startling reveal by her adoptive sister, Alex (Chyler Leigh), plus the help of work bestie Winn (Jeremy Jordan) and newly arrived art director (and Superman pal) James Olsen (Mehcad Brooks), Kara suits up and shows off those long-hidden powers during a climactic battle with rampaging alien Vartox (Owain Yeoman). "Melissa trained extremely hard for this part," raves stunt coordinator and second-unit director John Medlen, adding that the actress put in extra hours to make sure the on-screen fight would fly with fans. "It's very challenging to perform stunts and fight and be able to act all in the same scene," he continues. "Melissa's dedication and training for Supergirl has definitely paid off. It shows when you watch her performance."
RELATED: (Video) The Supergirl Cast Would Tango With Thor
Before the scene was filmed over the course of a day and a half on a strip of road in the small town of Acton, California, Medlen broke down the script to map out the logistics. "I determined who was right for each [stunt] part based on the look and skills required and made a budget based on what it would cost for equipment, players and additional tools needed to make the action scene complete." After that, he shot a video presentation of his choreography for the producers, teaching Benoist her moves just prior to the filming.
And while Medlen verifies that "Melissa is completely capable of performing all her own stunts, of course we had a double there to perform those high-risk sequences to keep our lead actress from getting injured." In addition, Medlen got some super assistance from the visual effects team, since nobody in Hollywood has mastered the art of leaping a building in a single bound. Yet.
RELATED: More Editors' Choice Picks for Promising Shows | Visit Our Fall Preview Page
"Sometimes it's a combination of CGI and real action to make a scene bigger," he says. "We are able to perform over-the-top and sometimes dangerous stunts with the help of CGI in efforts to keep everybody safe."
It's nice to know that even Supergirl needs a little backup now and then.
https://www.youtube.com/watch?v=6pAS8DO0omE
Supergirl, premieres Monday, Oct. 26, 8:30/7:30c, CBS | Timeslot Premiere Monday, Nov. 2, 8/7c, CBS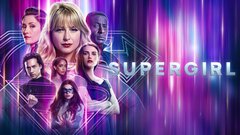 Powered by