The 5 Best and Worst TV Boyfriends
For years now, TV boyfriends have been making viewers swoon and cringe—sometimes even at the same time.
Check out our list of some of the best and worst boyfriends in modern TV history from shows like Friends, Parks and Recreation, Orange Is The New Black and more.
The Best
Jim Halpert from The Office
Why wouldn't half of one of TV's most beloved couples not make the best list? Since debuting in 2005, The Office created a legion of loyal fans whowould swoon over the show's overall good guy, Jim Halpert (John Krasinski). The avid prankster was always pulling tricks over his office mate Dwight, but his affection for receptionist Pam went far beyond any joker instincts. Besides waiting out Pam's sham of a relationship to warehouse worker, Roy, Jim became her friend first, allowing their relationship to grow naturally. Sure, Jim would occasionally make poor choices when it came to being the perfect boyfriend, but we forgive him.
Cory Matthews from Boy Meets World
In this classic tale of boy meets girl, it takes some time for Cory Matthews (Ben Savage) to see his classmate Topanga (Danielle Fishel) as a romantic interest, but he eventually gets there. As an immature kid in early seasons, it is hard to see how Cory will shape up as boyfriend material, but a lot of credit can be given to his partner whose eccentricities and honest kindness help shape him into the Cory that viewers still love today.
Andy Dwyer from Parks and Recreation
Andy (Chris Pratt) is essentially a golden retriever in human form–somewhat forgetful, playful, and affectionate. Maybe he wasn't the best boyfriend to Leslie Knope's BFF Ann, but he more than made up for his shortcomings with April. From being supportive of everything that April does to helping any friends in need of assistance with their governmental tasks, Andy is on the case.
Pacey Witter from Dawson's Creek
This damaged good-guy captured the hearts of viewers alike in the early 2000s show Dawson's Creek. Hiding his complexity, Pacey (Joshua Jackson) was known for his good sense of humor and jokester tendencies. When it came to his relationship with Joey (Katie Holmes), Pacey opened up to her unlike any of his past flings and proving that with the right girl he could be a better man. What could be more swoon worthy?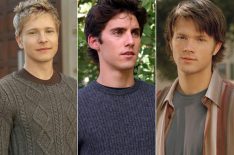 See Also
Are you Team Dean, Jess or Logan?
Dev from Master of None
In a departure from his Parks and Recreation role, Aziz Ansari gives us a funny guy with a soft side in Netflix's Master of None. Dev who is only trying to find purpose in life can't help but fall in love along the way, and when he does, boy does he fall hard. Loyal and supportive, Dev has many good qualities, but of course messes up from time to time as occasional selfishness comes into play. Even with these minor shortcomings, Dev is certainly made of the highest boyfriend material, and his passion for culture is only one shade dimmer than the amount of love he can show to the woman in his life.
The Worst
Jimmy/Steve from Shameless
A man who can come across as prince charming in the beginning only to turn into the opposite would be the perfect way to describe Shameless' Jimmy/Steve (Justin Chatwin). Sweeping Fiona off of her feet in the first season, Jimmy/Steve seemed like a knight in shining armor, but in truth his own life got in the way of creating a steady one with her. From kidnapping Fiona's dad and lying about his name, to marrying someone else based solely on business relations, he proved time and again that he was nowhere near good enough for the people he "loves."
Ross Geller from Friends
While some Friends viewers might disagree, Ross Geller (David Schwimmer) was actually not the picture-perfect boyfriend he tried to protray. Despite the Rachel and Ross fervor from fans, Ross' guilt trips and multiple miscommunications made him anything but good for Rachel. From being the reason behind Rachel's abandonment of her job opportunity in Paris to that unforgettable "break."
Larry Bloom from Orange Is the New Black
Before Orange Is the New Black was the show viewers know at present, there was a character named Larry (Jason Biggs) who considered himself to be Piper's significant other. Despite putting up a front of being a supportive partner, Larry cheated on Piper as well as took part in selfish choices that would make anyone's opinion of him lessen.
See Also
Plus: How she has the Showtime dramedy to thank for meeting her fiancé, and why there hasn't been an Emmy for Emmy yet.
Rory Gilmore's Main Men (Logan, Jess, and Dean) from Gilmore Girls
When it comes to Rory Gilmore, there is no shortage of bad boyfriends in her time as one of two leads in the CW's Gilmore Girls. The boys in question are Logan (Matt Czuchry), Jess (Milo Ventimiglia), and Dean (Jared Padalecki). While they had their strengths, these boys proved that they were nowhere near worthy enough for the girl whose affection they received. Whether they were abandoning Rory, making her feel less than, or just downright disappointing her, this gaggle of guys were far from perfect.
Dennis Duffy from 30 Rock
Dennis Duffy, the loud-mouthed counterpart of Tina Fey's Liz Lemon on 30 Rock, is the epitome of a bad boyfriend. While Liz's friends did their best to convince her that she deserved better, this shady fella somehow wormed his way into her heart more than once. Among some of Dennis' shining moments as the utter worst, are his Dateline "To Catch a Predator" moment and use of a one-time heroic action as a crutch for his personality.