'Shameless': Emmy Rossum on How Fiona Takes Back Her Life in Season 7
Enough already. That audaciously randy, in-your-face Showtime hit Shameless is back after a jaw-dropper season closer last spring in which booze-soaked patriarch Frank Gallagher (William H. Macy) brought the wedding of his daughter Fiona (Emmy Rossum) to a dead halt. Not only did Daddy Dearest bust the groom for being a hardcore drug user, he also had some uncouth things to say about the bride's well-trafficked vagina.
The Gallagher kids furiously retaliated by dumping Frank's sorry ass into the Chicago River, but the real revenge comes this season when Fiona decides to put herself first and stop playing mom to her hot-mess siblings—alcoholic Lip (Jeremy Allen White), bipolar ex-stripper Ian (Cameron Monaghan), teen mom Debbie (Emma Kenney) and gunrunner Carl (Ethan Cutkosky). You'll get no complaints about this series shake-up from Rossum. She's ready to roar.
Season 7 has your character swearing off love. Is she serious?
Fiona without a man is a hard concept to grasp. And that's the point. She's been defined by her relationships for so long and been burned so badly by men—from her boyfriends to her father—that she can't even acknowledge her pain. Some women would go on a cleanse and start running. Some would go into therapy. But Fiona is acting out and showing her aggression. She gets herself an emotional breakup haircut—some of it dyed blue—and a tattoo that says "Warrior."
RELATED: Shameless: Watch William H. Macy Be Brutally "Frank" in a Deleted Scene From Season 6 (VIDEO)
Word is, you went to the writers and requested this no-more-men thing. True?
[Laughs] I've probably been a little too vocal about it. I wanted to see what Fiona would be like when she's not defining herself as somebody's girlfriend. I saw Hamilton on Broadway and now I am all about [Hamilton's wife] Eliza.
Who comes out at the end of the show after Hamilton is dead…
And takes back her own narrative! That's Fiona. She becomes the manager at Patsy's Pies this season and soon after decides to buy a small business. Plus, she's now surrounding herself with incredible, capable women. She's no longer letting anyone stand in her way—not her lovers or her family. She's done making school lunches.
Doesn't this make you want to see where Fiona is in 10 years?
No, because it would break my heart if she doesn't make it. I don't know that this story ends positively for her, or for any of the Gallaghers. The world turns upside down sometimes, and that's just the way it is.
The October 23 episode marks your directing debut. What's it like suddenly turning up on the set as boss lady?
I expected trepidation on the part of the other actors. Instead, there was a phenomenal amount of trust. Look, if I'd been a disaster, everyone would have stepped in and saved me, but I didn't want that. I wanted to feel ready and respected. I prepared by taking cinematography classes at NYU and I planned out the entire episode using schematics and Legos. The figure I used for Frank even had a little wine bottle. You'd be amazed what accessories you can find at the Lego store.
You recently turned 30. Is age just a number or was it a big deal for you?
I mean, why go on? I've decided I'll only wear muumuus from here on out and I'm never going to shave my legs again. [Laughs] No, actually, I welcome being 30. I had a lot of sudden success at age 18 when I did [the film version of] The Phantom of the Opera. It was scary. I didn't feel worthy of it at all. Now I'm much happier in my own skin. I've learned so much about acting from being on Shameless—especially from Macy—but I've also learned how to be a person.
Didn't you also meet your fiancé, Mr. Robot creator Sam Esmail, thanks to Shameless?
Sam's never seen me in Phantom, and I doubt he saw The Day After Tomorrow, not that he would remember me from that. But he did catch me on Shameless and cast me in his first movie [the 2014 rom-com Comet]. That's how we met. So this show has been good for me in all ways. I especially love that there's nothing pretty or ingenue-y about Fiona. She's raw and real and savage, and that's so liberating. I like showing up for work knowing that the hair, makeup and wardrobe aren't doing the job for me.
RELATED: Shameless Renewed for Season 7
How come no Emmy for Emmy? Your work has been spectacular, yet you've had no love from the Television Academy. Neither has the show itself, for that matter.
Maybe it's because we're so tonally weird—we're not a comedy or a drama and we're maybe too surreal—or perhaps it's because we play a gritty, low-income family and that's not considered interesting. But that's OK. We're really proud of our show, and it's clearly working, because here we are—Season 7! And the audience is still crazy about us and fantastically loyal. An award is lovely, but that and a couple of bucks will get you on the bus.
Shameless, Season Premiere, Sunday, October 2, 9/8c, Showtime.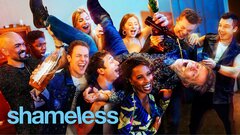 Powered by