'Star Wars Rebels' Debuts a Season 2 Trailer at New York Comic Con
The crew of the Ghost will be taking off again when Season 2 of Star Wars Rebels resumes on October 14. With the show's midseason premiere just a few days away, the show released a new Season 2 trailer (below) during their New York Comic Con panel.
Watch the trailer below, which features a snapshot of a showdown between former Jedi and fan favorite character Ahsoka Tano, plus Sarah Michelle Gellar's newly-announced villain, Seventh Sister. Plus, there's even an introduction of other Clone Wars characters, like Captain Rex and Hondo Ohnaka.
RELATED: Ahsoka Tano Returns to Star Wars Rebels With a Big Secret
During the panel, Sarah Michelle Gellar gave attendees a brief description of what her character is like. "She's a thinking man's baddie," she said of Seventh Sister. "She doesn't go in for the kill. She wants to play with you and have fun torturing you, then kill you."
Unfortunately for Ezra (Taylor Gray), he will be the first member of the Ghost's crew to encounter her. Gray says that the meeting will be terrifying. "We got through one Inquisitor and now there's two and that's crazier," explained Gray. "Ezra doesn't even know what an Inquisitor is. He's still trying to figure out what Darth Vader is."
Both Seventh Sister and Fifth Brother—the second Inquisitor on the trail of the rebels—belong to an organisation of Inquisitors, executive producer Dave Filoni explained. "He was the leader," says Filoni of the Inquisitor the crew that the Ghost offed in Season 1. Now all the remaining Inquisitors are vying for the position."
Luckily for the Ezra, Kanan and the rest of the Jedis, Clone Wars' Ahsoka Tano has joined the crew this season. However, according to Filoni, she won't be with the Ghost Crew the entire time. Instead, he likens her position to Lord of the Rings' Gandalf, who "only showed up when he had to guide people."
Ashley Eckstein, who's been voicing Ahsoka since she first debuted in Clone Wars, noted the difference in character beyond her age, saying that Ahsoka taking on a mentor role is not unlike how she is in real life with the cast of Rebels.
The new season will also explore Kanan and Ezra's views on the Clone Wars, with Filoni pointing out that Ezra wasn't even born until they were over—unlike Kanan, who lived through them. "[Ezra] wouldn't have any bias about what the clones did," says Filoni. "He wouldn't even be aware of it."
Plus: Get the Latest News About New York Comic Con
Star Wars Rebels resumes on October 14 at 9:30 pm ET on Disney XD.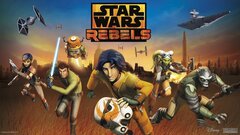 Powered by