Ahsoka Tano Returns to 'Star Wars Rebels' With a Big Secret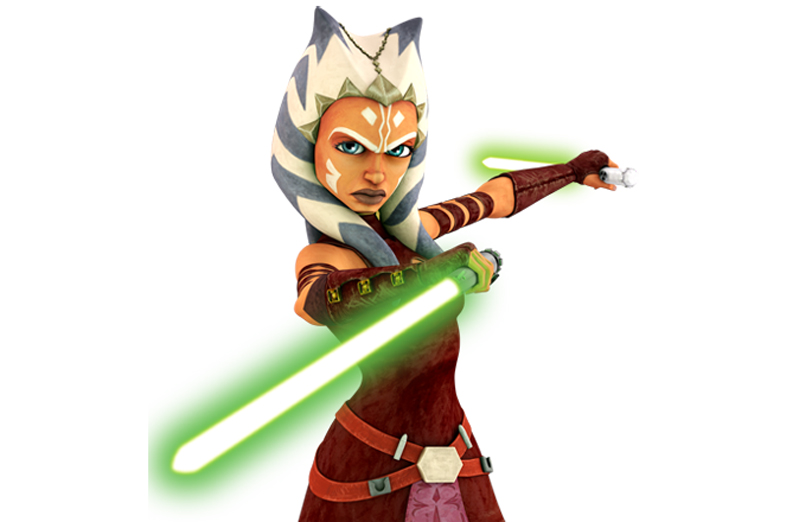 The Dark Side might not be clouding everything just yet. As Star Wars Rebels kicks off the rest of its season, Clone Wars fan favorite Ahsoka Tano will be joining the Ghost's crew in their fight against the Empire.
"One big change in Ahsoka since Clone Wars is that she's very guarded and internal," reveals Ashley Eckstein, who has been voicing the character since the 2008 animated series. "She doesn't let on much. She has a very good poker face."
That poker face will come in handy for the Togrutan padawan-turned-rebel, who is now keeping a big secret following her discovery at the end of Star Wars Rebels: TheSeige of Lothal—that Darth Vader, the Sith Lord hunting down the crew of the Ghost, is none other than her former friend and master, Anakin Skywalker.
"Ahsoka has questions," says Eckstein of her character's journey this season. "Every single piece of information that she finds out means something to her. She's putting together the pieces of the puzzle."
RELATED:Disney Infinity's Star Wars Rebels Play Sets Get Details
Having grown older and wiser in the time between Clone Wars and Rebels, Ahsoka will also be serving as a mentor for the Ghost's crew, guiding them on future adventures. But unfortunately for fans, she won't be in every episode this season. "They don't need her help every single minute," says Eckstein. "When she's off on her own, she's seeking answers."
That's probably a good thing: when the show resumes, Vader himself, now armed with the knowledge that his former pupil is alive, will be hunting the rebels. And if that wasn't worrisome enough, the Sith Lord will also be recruiting two new Inquisitors to help him. "Times are getting darker," says Eckstein. "As we veer towards Episode IV, the stakes are getting higher and more serious. Definitely look for the Dark Side to be more prevalent."
Of course, Ahsoka isn't the only familiar face making an appearance this season. Viewers will also be reunited with another Clone Wars character, Captain Rex, who is currently living in an AT-TE with with some Clone Wars survivors. "You'll continue to see some crossover with some favorite Clone Wars characters coming into the show," says Eckstein. "There's some exciting things ahead."
For those curious about what happened to Ahsoka after Clone Wars, Eckstein says she herself doesn't know much except for a few snippets of information required for her performance. "To find out the information that I've found out is just mind blowing," she reveals, suggesting that viewers pay attention to the show's dialogue if they're looking for clues. "There's a lot of backstory and so many layers to each story that you should pay attention to every single line."
RELATED:C-3PO and R2-D2 Meet the Rebels in LEGO Star Wars Droid Tales
Star Wars Rebelswill resume its second season on October 14th at 9:30PM ET on Disney XD.