Roush Review: 'Menendez' Miniseries: Been There, Tried That
The chung-chung chimes of the Law & Order brand have never sounded so ominous or mournful as at the start of the franchise's new foray into docudrama, with the clunky title Law & Order True Crime: The Menendez Murders. Obviously inspired by the success of FX's American Crime Story: The People v. O.J. Simpson and its surprisingly fresh take on a historic murder case and trial, True Crime initially takes a more conventional route in revisiting another notorious tabloid sensation of the 1990s that, unfortunately, lacks the sociological relevance and staying power of the O.J. "crime of the century."
Opening on a lurid slo-mo depiction of the Beverly Hills shooting deaths of Jose and Kitty Menendez by—historical spoiler alert!—their preppy sons, Lyle (Miles Gaston Villanueva) and Erik (Gus Halper), the series picks up steam when the focus soon falls on the amusingly brash Edie Falco as their eventual impassioned advocate, Leslie Abramson, of the sharp tongue and frizzy mane. "Those boys did it," she concludes after merely watching the initial news report on TV.
Since Falco is so clearly the star attraction here, gunning for Emmy bait in the indelible tradition of O.J.'s Sarah Paulson-as-Marcia Clark, Abramson gets a distracting personal subplot involving her desire to adopt with reporter-husband Tim Rutten (played by Chris Bauer, who's having a busy fall, also appearing on HBO's The Deuce). She is, however, just the kind of ferocious mama bear these spoiled, entitled boys need in their corner as they spend their period of mourning making inappropriate moves like purchasing expensive gold watches with the family's credit cards on an ill-advised spending spree. Erik's unproduced screenplay anticipating this grisly patri-matricide is likely to make her job even tougher.
In a juicy supporting role, The Good Wife's Josh Charles also makes a more colorful impression than the creepy defendants as unstable Erik's smarmy court-appointed therapist, who becomes a pivotal figure in the case thanks to the antics of his basket-case mistress (Heather Graham), who after one suicide attempt coos, "Make me better, Doctor Daddy." It goes downhill from there.
While the agenda of this series may be to engender more sympathy for the tormented brothers because of a history of parental abuse, the verdict is still out after the first two chapters, which merely seem guilty of dramatic exploitation.
Law & Order True Crime: The Menendez Brothers, Series Premiere, Tuesday, Sept. 26, 10/9c, NBC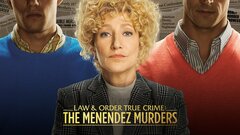 Powered by