Edie Falco on Playing Leslie Abramson in 'Law & Order True Crime: The Menendez Murders': 'She's a Hard Ass'
Four-time Emmy winner Edie Falco is back on television—and she's laying down the law. In NBC's Law & Order True Crime: The Menendez Murders, she plays flame-throwing defense attorney Leslie Abramson, whose unbridled passion and mop of unruly blonde curls made her a media favorite (à la Marcia Clark) during the notorious Menendez brothers trial of 1993–94.
This limited series—the first installment in a planned trilogy—follows the case of siblings Lyle and Erik (played by Miles Gaston Villanueva and Gus Halper), who were sentenced to prison for life without parole for the murders of their wealthy parents, Jose (Carlos Gómez) and Kitty (Lolita Davidovich). The cast also includes Anthony Edwards, Julianne Nicholson and onetime Good Wife lovers Josh Charles and Elizabeth Reaser. Falco offers her testimony about playing the controversial lawyer and her evolving feelings about the trial that sent Court TV's ratings into the stratosphere.
Like Carmela Soprano and the title character in Nurse Jackie, is Abramson another in a series of complex, sympathetic yet sometimes morally dubious characters? She's more of a straight shooter than the people I normally play, but you could find her on the outskirts of that designation. She's a hard-ass, not easy to deal with. It's all about doing the job for her client. In this trial, she felt thwarted at every turn because of the rampant dishonesty of the Beverly Hills Police Department, the judges that she dealt with and more. It made her furious.
Is playing a real person more difficult? Truthfully, it makes me uncomfortable, especially if the people who know her are still living and can say, "Oh, that's not her!" But I'm not imitating Abramson—I'm trying to portray an accurate version of her passions.
Did you have strong opinions about the case? At the time of the trial, it seemed that the brothers were just bratty kids from Beverly Hills who killed their parents for the money.
Some accused the early trailer for The Menendez Murders of whitewashing the defendants. What's your take on that? We're not sticking a point of view down your throat, but presenting more details. I think, in a weird way, it gives the brothers more of a fair trial. I love the idea that viewers will have an opinion when they watch the show and that some may change the way they felt.
Has the show changed your mind about the culpability of the "bratty kids"? I don't remember hearing about abuse in the Menendez home during the trial. I heard comments later from people who thought the sexual-abuse accusations were just an attempt to get sympathy, but when you do research you learn that family members corroborated the abuse, some of which made your skin crawl. I'm walking away with the knowledge that you shouldn't only believe the news we are fed. It behooves one to remain open. Erik and Lyle haven't seen each other in almost 21 years. There's heartbreak all around.
You've come a long way from the first time you played a lawyer. Yes! Like every New York actor, I did my rite of passage, playing a defense attorney on Law & Order. [Falco played DA Sally Bell in four episodes between 1993 and 1998.]
Are you a fan of crime shows? I'm obsessed with A&E's The First 48, which, by the way, is one of the best shows on TV. It follows detectives, and you see that there's a [specific] county of people struggling with addictions and mental illness. I'm fascinated by secrets people keep and what makes people do such terrible things.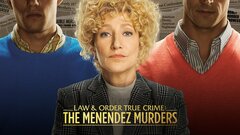 Powered by