'Doctor Who's Michelle Gomez on Why The Master Should Be President (VIDEO)
https://player.waywire.com/?id=JWDYT02DBQVSKX4M
Michelle Gomez is The Master of the universe (or, at least, the Doctor Who universe). The Scottish actress time traveled (we think) to the TV Insider offices to talk about her character's story arc on Season 9.
When asked if she knew her mysterious role would be revealed as The Master, Gomez admitted that she did, but the secret had to be kept under tight wraps. "I wandered around the streets with a very odd smile on my face. I am a real fan and I couldn't tell anybody." Well, except her husband and one other friend, under threat of a "divorce and the end of a friendship," she joked.
RELATED: Peter Capaldi and Jenna Coleman Share What's Coming Up
And now that Gomez has, um, mastered the role of a Time Lord who wouldn't mind being an overlord, what other show would she guest star on? "Veep," she said immediately. In fact, she believes The Master would make a "monstrous but delightful" president, and one who would "look excellent in heels," just like Selina Meyer.
Watch the video to also hear Gomez share why she calls Jenna Coleman "my gal."
RELATED: 9 Potential Companions to Replace Clara Oswald
Doctor Who, Saturdays, 9/8c, BBC America.
---
Questions? Ask Critic Matt Roush!
TV critic (and occasional TV therapist) Matt Roush answers viewer questions and concerns in his Ask Matt column each week. Wondering about plots, characters and twists on your fave shows? Submit your query to Matt via the form below: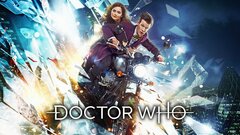 Powered by