'Speechless' Channel Rock Band Queen in New Season 2 Promo Art
Speechless will rock you in its upcoming second season.
Well, that's the message you may get from the just-released season 2 art featuring the cast arranged in a way reminiscent of the classic rock band Queen.
The sophmore season of Speechless, while not seeing the DiMeos become a family band, kicks off with J.J. (Micah Fowler) at camp, giving mom Maya (Minnie Driver) the perfect oportunity to remind the family to stop using JJ's disability as a reason to let their own lives fall through the cracks.
While the family does their best to try to change their ways, Ray (Mason Cook) entertains himself by watching everyone fail.
Check out the new Season 2 art below:
Speechless, Season premiere, Sept. 27, 8:30/7:30c, ABC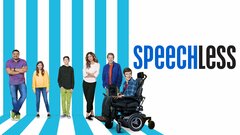 Powered by