So Long, June Cleaver: 'Speechless' Star Minnie Driver on the Ever-Changing Role of Moms on TV
Nobody could accuse Minnie Driver of portraying the perfect sitcom mom, and that's exactly how she likes it. On ABC's freshman hit Speechless, Driver plays Maya DiMeo, a woman who would do anything for her three kids—and we do mean anything (think: sabotaging the high school's homecoming bonfire upon learning that her son J.J., who has cerebral palsy, won't be able to partake along with his classmates). Sure, she's loving, fearless and generally means well, but she's also deeply flawed, and a far cry from the doting maternal figures who once ruled the tube. Here, Driver—mother to son Henry, 8, and a veteran of movies like Good Will Hunting and TV series The Riches and About a Boy—discusses the joys of breaking the Jell-O mold.
Marion Ross on Happy Days. Leave It to Beaver's June Cleaver. Carol Brady from The Brady Bunch. Traditionally, mothers on TV were these very benign, sweet characters. They were ever-smiling, ever-cooking, ever tut-tutting over the antics of their boys and men, and you never saw them get angry or assert themselves.
As a child, I found that wildly confusing. My own mother was such a dynamo—she was incredibly active and vocal and socially aware—so these apron-wearing characters were completely alien to me. I didn't recognize any of them! They were a fake archetype created by men during a time when there were not any female writers for these roles. Saintly women like that never really existed, and if they did, then they probably went off to burn their bras or climb Mount Everest.
See Also
The DiMeo kids are all in for a wild night as the siblings head to the prom in ABC's 'Speechless'.
My favorite part about playing Maya is that she's a real human being: faulted, messy and fully rounded. I'm into women who don't color within the lines or fit into a cute little box. Like all of us, Maya is not just one thing. She can be awful, and she can be utterly brave and wonderful. She's ludicrously self-involved while also being selfless. Some of her best moments are when she gets to show absolute indignance—like when her son J.J. was starting at a new school and they found out that the disabled access he was supposed to use for his wheelchair was a garbage ramp. The thought of her son possibly being treated as garbage? The rage!
Part of our storyline at the end of this season is about how J.J. desperately wants to separate himself from his mom, but how do you do that if you can't walk or unbutton your own shirt? There's a scene [in the April 26 episode] where Maya helps J.J. run away from home—from her!—because she believes he should be able to do anything he wants, including that. It's so meta and great. As a mother, I can relate to her, and a lot of other people can too. The amount of feedback I've gotten about this role is unprecedented. I've never done anything else that's engendered so much response, and I'm convinced Maya's imperfection is what makes her so lovable. Women want to see characters on TV who resemble how they actually are, not an idealized image.
When I first began to get steady work, in the 1990s, I was profoundly aware of how underdeveloped most female roles were—actresses were expected to come in and truly inflate the part. Once I was lucky enough to start choosing my material, I was drawn to characters who are complex and tricky to understand, like Dahlia in The Riches. She was a wonderful mother and also a drug addict. I don't want to play useless, forgettable women who fade into the background. In Speechless, Maya is the centrifuge for everyone around her. She's the hurricane.
The way that women are portrayed has certainly been evolving. Clair on The Cosby Show? I never bought it—too happy! For me, Carmela Soprano on The Sopranos was a watershed moment. She took back her own power from how she had always been perceived by men. I love Cookie on Empire—she's this brilliant, beautiful, hugely charismatic example of a mother lioness. Or Elizabeth Jennings in The Americans—I'm obsessed with that conflict between her family relationships and being a spy. Selina Meyer on Veep is a dreadful mother, and she's probably my favorite character on TV.
Yes, you can still find examples in media today of the milquetoast maternal archetype, but it's
on the wane. I just don't think we see each other like that anymore. Hopefully, there will come
a point when women like June Cleaver will be a part of our history—a really dear, sweet part—
but one that's completely in the past.—As told to Ingela Ratledge
Speechless, Wednesdays, 8:30/7:30c, ABC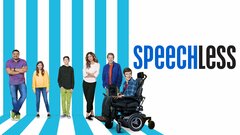 Powered by