'Full Frontal': Sam Bee Doesn't Want to Hug Nazis (VIDEO)
Aaaand…we're back. Samantha Bee and co. returned from a little late summer vacay to take the temperature of the nation. Among the things they missed: the president basically paying sticker price for Chuck and Nancy's debt ceiling deal, whatever the fork Ted Cruise is doing on Twitter late at night, hurricanes, wild fires—or as the Full Frontal host put it, "Mother Earth's quest to murder us all."
Also DACA—specifically, the Trump administration's quest to murder the dreams of hundreds of thousands of tax-paying recipients of the "amnity" provided by President Obama's Deferred Action for Childhood Arrivals policy.
See Also
TV is handling Trump's presidency—directly and indirectly—in ways you may not have expected.
And then there was that nightmarish white supremacist luau at UVA last month. As Bee points out, domestic white terrorists—like Dylann Roof for instance—constitute a way bigger threat in the U.S. than any other form of terrorism.
But there's gotta be some good news, right? There's got to be someone out there doing something to combat the kind of hate we saw a few weeks ago in Charlottesville (while the Bee Hive was chillin' on the lido deck or whatever). Bee travels to Portland of all places to chat with the founder of Life After Hate, an organization dedicated to helping people disengage from white supremacist ideologies.
The Trump administration may have decided to defund Life After Hate—because of course they did—but the organization is raising money via its crowd funding campaign, and Bee is here to help with an assist from Portlandia's Fred Armisen and Carrie Brownstein. Check out the clip below.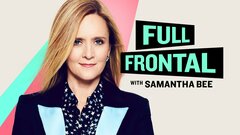 Powered by