Emmy Ushers in a New Age with 'Game of Thrones', 'Veep' Series Wins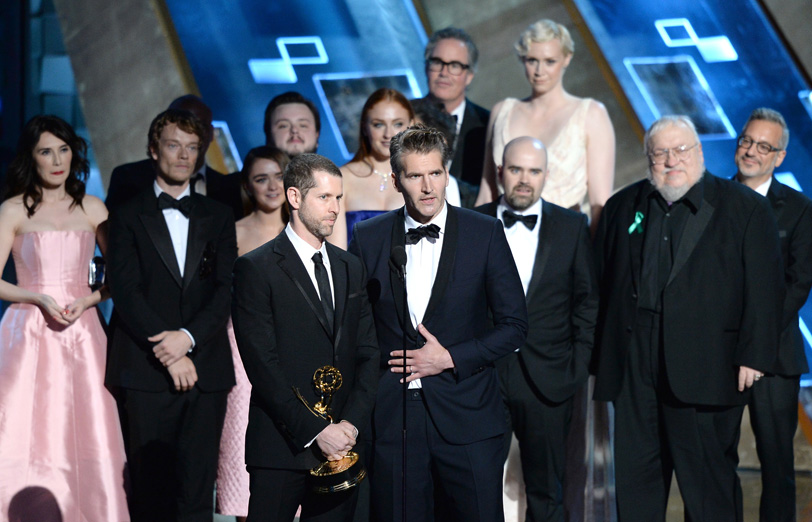 Winter is over for the Emmys.
New blood invaded the Emmy winners list at the Sunday night ceremony, starting with HBO's Game of Thrones, which won its first-ever outstanding drama Emmy.
On the comedy side, HBO's Veep broke Modern Family's stranglehold to win its first Emmy for outstanding comedy series.
"Thank you HBO for believing in dragons," said Game executive producer D.B. Weiss.
HBO had plenty of reasons to be thankful as well, dominating the evening with 14 Emmys – more than every other network combined. In landing both the outstanding drama and comedy series awards, it became the first network to pull off both wins since NBC did it with The West Wing and Friends in 2002.
Television Academy voters also made history, awarding the first-ever outstanding actress Emmy to an African-American woman: Viola Davis, who won for her role on ABC's How to Get Away with Murder.
"The only thing that separates women of color from anyone else is opportunity," Davis said.
That was Davis' first nomination and first win. But she wasn't the only one clutching their first Emmy: Mad Men's Jon Hamm and Transparent's Jeffrey Tambor were among the stars picking up their first wins.
RELATED: Highlights From Emmy Winner Speeches
The long-overdue shakeup was likely a function of this year's Television Academy voting rule change, which opened up the final ballot to all members.
The Game of Thrones win was part of a major sweep for the HBO drama, won 12 Emmys overall (including the Creative Arts Awards on Sept. 12), making it this year's biggest winner. That's also the most ever in a single year for a TV program, beating the previous record (nine) won by The West Wing in 2000.
The show also won Emmys for Peter Dinklage, who won his second-ever supporting actor in a drama award, as well as wins for outstanding director (David Nutter) and writing (David Benioff and Weiss).
Thrones has been nominated in the outstanding drama series category every year since its 2011 debut but only now picked up the top prize. The show's first win in the outstanding drama series category even came on creator George R.R. Martin's 67th birthday.
Veep won five overall, including another outstanding actress in a comedy Emmy for Julia Louis-Dreyfus, who won her fourth consecutive Emmy in the outstanding comedy actress category (making for her sixth Emmy overall out of 20 nominations). "What a great honor it must be for you to honor me tonight," she said, at first claiming it was a quote from her Veep character–and then admitting it was actually a Donald Trump line. "It's getting trickier and trickier to satirize this stuff," she mused.
Co-star Hale, who won the outstanding supporting comedy actor award in 2013 in Veep, picked up his second Emmy (out of three nominations). The show also won for outstanding comedy writing. (Veep also stopped Modern Family's attempts at winning a record sixth Emmy in a row, something no other series had done before.)
Hamm's win as outstanding drama actor came for his final run as Don Draper, and after much media attention over the fact that he had never picked up an Emmy. The actor has been nominated 15 times (as both an actor and producer), but has always come up empty–including last week, when he lost the outstanding guest actor in a comedy category.
Tambor dedicated his "performance and this award to the transgender community. Thank you for your patience, your courage, your stories. Thank you for letting us be a part of the change."
The actor's first Emmy came thanks to his groundbreaking role as transgender character Maura on Amazon's Transparent. It was the first time Tambor had even been nominated in the lead actor category, despite a lengthy career (he has seven nominations overall, having previously been nominated as a supporting actor for Larry Sanders Show and Arrested Development).
Tambor's win represented the first Emmy win in a major category for one of TV's streaming services. Tambor made a point to give a shout-out to Amazon, who he called "My new BFFs."
Transparent also secured an Emmy for creator Jill Soloway, who won in the outstanding comedy director category.
Other first-time winners also included American Crime's Regina King, who won the outstanding supporting actress in a limited series or movie Emmy. (She had never been nominated until this year.)
Olive Kitteridge stars Frances McDormand and Richard Jenkins also won their first Emmys, for outstanding lead actress and actor in a limited series or movie. (It was McDormand's third nomination and Jenkins' first.)
The HBO project was another one of this year's big winners, taking eight Emmys overall (including six on Sunday night and two at the Creative Arts ceremony)–the second-most, behind Game of Thrones. The longform's other Emmy victories included a big one for outstanding limited series. Olive Kitteridge's Bill Murray won for outstanding supporting actor in a limited series or movie, Lisa Colodenko won for outstanding director, while Jane Anderson won for outstanding writing.
On the nostalgia front, Emmy voters honored The Daily Show with Jon Stewart one last time with a final Emmy for outstanding variety/talk series. The show previously won ten straight, from 2003 to 2012, in the predecessor outstanding variety, music or comedy series category.
"To everybody on television, cling to it as long as you can, like death," Stewart joked. "I've been off TV for six weeks, and this is the first applause I've heard."
The Daily Show beat out two other exiting series, Late Show with David Letterman and The Colbert Report, in addition to Jimmy Kimmel Live, Last Week Tonight with John Oliver and The Tonight Show Starring Jimmy Fallon.
"I will never have an experience like this again," Stewart said of The Daily Show.
The late-night series, which relaunches Sept. 28 with new host Trevor Noah, also won for outstanding variety series writing and outstanding variety series directing.
RELATED: More Emmys Coverage
It was also a good night for Emmy trivia. Mom star Allison Janney's win for outstanding supporting actress in a comedy was her seventh career Emmy–bringing her into a tie with Mary Tyler Moore for the second-most Emmys ever won by a female performer. (Cloris Leachman still has the most, at eight.)
Janney, who won her first four Emmys for The West Wing, scored her second in a row for Mom. (She also won another Emmy in 2014 for Masters of Sex). "So many lives are touched by addiction and it's a privilege to work on a show that reminds us that there is hope," she said.
Orange is the New Black's Uzo Aduba won the Emmy for outstanding supporting actress in a drama, making her the second performer to ever win both a comedy and drama Emmy for playing the same role.
Aduba won the guest actress in a comedy Emmy last year, but because of a rule change that forced Orange's switch to drama, she has now won both comedy and drama Emmys for her role as "Crazy Eyes" on the show. Ed Asner, who played Lou Grant on the comedy Mary Tyler Moore and the drama Lou Grant, is the only other performer to pull off the trick.
In the reality competition category, The Voice picked up its second Emmy (breaking The Amazing Race's ongoing stranglehold of the category). "Sorry Amazing Race, it's our year this year," executive producer Mark Burnett snarked.
Besides Amazing Race, The Voice beat out Dancing with the Stars, Project Runway, So You Think You Can Dance and Top Chef.
RELATED: Critic's Notebook: Andy Samberg's Emmys Prove to Be a Warm, Winning Show
The telecast opened with a taped package featuring host Andy Samberg as he took a year off in his "viewing bunker" to watch every show on television. He emerged a year later, with a massive beard, singing the original tune, "I watched every show!" Kerry Washington, Jon Hamm, Nathan Fillion, Will Forte, Billy Eichner, Bob Odenkirk, Yvette Nicole Brown and Russell Park were among the stars joining in the bit.
Other telecast highlights included the first appearance back on a stage by Tracy Morgan after his car accident.
Earlier in the afternoon, with temperatures nearing 100 degrees, stars and producers stepped out of their limos to a sweltering hot red carpet. Reporters covering the press line said their smart phones were even shutting off due to the heat.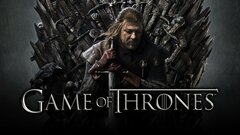 Powered by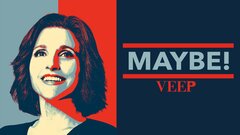 Veep
where to stream
Powered by