Jon Stewart Talks 'Daily Show' Retirement and Donald Trump Following Emmy Win
It's been over a month since Jon Stewart bid farewell to The Daily Show with a rollicking final episode featuring returning guests and a performance by Bruce Springsteen and the E Street Band. But the comedian was back in the spotlight on Sunday night when he and his team were awarded two primetime Emmys for Outstanding Variety Talk Series and Outstanding Writing for a Variety Series. After accepting the award, the former host revealed his retirement plans to reporters backstage.
RELATED: Highlights From Emmy Winner Speeches | More Emmys Coverage
"If I had known what life was like on the other side, I would have left earlier," Stewart said. "It's f—ing fun, man. You can get a smoothie at 2!"
Stewart was adamant he does not have any immediate plans, and nothing could get him back in the hosting seat, not even a Donald Trump presidency.
"I would consider getting into a rocket and going to another planet because clearly this planet's gone bonkers," Stewart said. "I may just end up on a boat somewhere floating out onto an island."
As for his successor Trevor Noah, Stewart promises he'll be there for support, but he will not be actively involved in any day to day decisions. "Trevor is such a talented guy and has such a great foundation for this," Stewart said. "The last thing they need is the old pope peering around at the new pope going, 'Is that how you're going to bless the wafer?'"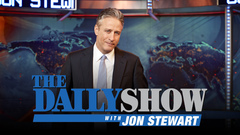 Powered by