Allison Janney Reflects on Winning Her Seventh Emmy Award
Oh, mama! On Sunday night, Allison Janney took home the Outstanding Supporting Actress in a Comedy Series Emmy statue for her role as Bonnie Plunkett on the CBS sitcom Mom. The win marked her second in a row for the series and the seventh in her career, tying her with legendary actor Ed Asner.
"I'm calling this one 'Ed,'" said Janney, who also noted Asner appeared with her on an episode of Mom. "Never in a million, trillion years did I think I would be on that list. This is going to sink in later and I'm going to cry hysterically, I'm so grateful.
RELATED: Highlights From Emmy Winner Speeches | More Emmys Coverage
Janney addressed reporters in the backstage press room alongside Outstanding Actress in a Comedy Series winner Julia Louis-Dreyfus, who was awarded her fourth Emmy in a row for portraying Selina Meyer on HBO's Veep.
"I asked Julia to come up with me because I was feeling nervous," Janney admitted. "We're gonna throw down somewhere and play some cards."
But when asked if the two actresses would ever guest star on each others' series, they both jokingly quipped "no, under no circumstances."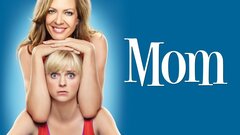 Mom
where to stream
Powered by