Keegan Allen Is One Pretty Little Liar on 'Young & Hungry' (VIDEO)
https://player.waywire.com/?id=DPV5Q233V1PVLGC1
Looks like Keegan Allen's lying his way from Rosewood to San Francisco. The Pretty Little Liars alum, who plays Spencer's on-and-off again boyfriend and former "A-Team" member, pops up on tonight's episode of Young & Hungry, this time as Gabi's potential love interest.
RELATED: Emily Osment Shares 6 Things to Expect This Season
But while his character, Tyler, seems to be a cute aspiring drummer/musician ("one hit from making it big"), his exciting life may be more…transient than Gabi believes. During a dinner scene between Tyler, Gabi, Josh and his date, Sarah, Tyler inadvertently reveals he may not actually be Gabi's local neighbor. Watch an exclusive clip of the scene, when Josh gets some one-on-one time with Tyler.
Young & Hungry, Wednesdays, 8/7c, ABC Family.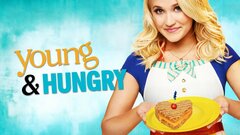 Powered by