'Young & Hungry' Renewed for Season 3: Emily Osment Shares the 6 Things to Expect When It Returns
Prepare for a third course of Young & Hungry! The show has been renewed for Season 3. When the midseason finale aired back in May, our loveable, quirky chef, Gabi Diamond (Emily Osment) had just reached a decision in the long-standing love triangle with Cooper (Jesse McCartney) and Josh (Jonathan Sadowski). Gabi chose herself, heading to Switzerland for a prestigious internship with Chef D'Arby (Hal Ozsan) and leaving everyone else behind in San Francisco. When the comedy returns tonight (August 19) for the second half of Season 2, get ready for more big laughs and more of Ms. Diamond's wild schemes. Here are six things you'll want to know about the second half of Season 2, courtesy of Osment herself.
1. Josh will not be happy to see Gabi—or be too forgiving.
"Gabi's a little naïve, thinking that everything's going to be fine," Osment says of her character's return to the U.S. "She comes back to find that Josh is not very happy that she didn't say goodbye. Life has moved on without her. Josh has a new chef, and Cooper is gone. She does meet someone new this season and chooses someone this season, but it's not who you would expect."
2. No more Cooper (for now)!
Say it ain't so! The loveable technophile is off the show (at least for the rest of Season 2) following his blowout with Gabi in the midseason finale. "Cooper's not back," Osment says. "[McCartney] fit in really well and it was fantastic to have him. We were so sorry to see Gabi fall out of love with him."
RELATED: Emily Osment Talks Season 2 Love Triangles
3. Another wedding is coming up.
Who will be walking down the aisle? "I can't tell you who is getting married, but there is a wedding in the second half," Osment says. That doesn't sound like it's going to be the newly-engaged Alan (Bryan Safi) and Elliot (Rex Lee), though Osment assures us that Alan will be featured heavily for the rest of the season and that "things progress" between him and Elliot. Either way, let's hope this wedding will go better than Josh and Caroline's (Mallory Jansen) disastrous nuptials in the Season 1 finale.
4. The first holiday episode will have some family drama.
"We added an extra episode to the season, so we have a Christmas episode," Osment says. That's not all, though! The episode will feature Sister, Sister star Jackée Harry, who will be playing Yolanda's (Kym Whitley) sister JoJo. "[Yolanda] and her sister do not get along, and there's this very old sibling rivalry that comes into play right around Christmas."
5. More family members will be introduced.
Get ready for some family reunions! In addition to Yolanda's sister, we will also meet Sofia's (Aimee Carrero) little brother Benji (Taylor Zakhar) who isn't as "chubby-wubby" as Gabi remembers, as well as another Kaminski, Josh's brother. Will we ever meet Gabi's remaining family ? "I'm waiting for another family member of Gabi's," shes says. "I'm hoping for Carrie Underwood, but I don't think that's going to work."
6. Gabi and Josh will have a groundbreaking convo.
In addition to Pretty Little Liars heartthrob Keegan Allen dropping by to play a homeless man on the August 26 episode, look forward to psychics and a good 'ole San Fran earthquake. "There's an episode where we go see a psychic and the psychic tells Sofia that she's going to meet someone, and the person she meets is not who she would expect," Osment says. "And there's an earthquake episode. Josh and Gabi get stuck in an elevator while they're kind of in a fight, and they're forced to face all the problems in their relationship. That's one of my favorite ones from the second half."
Young & Hungry, Season premiere, Wednesday, August 19, 8/7c, ABC Family.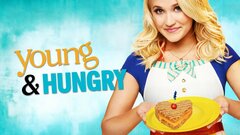 Powered by