Why Joy Behar Is Returning to 'The View' After Being So Hard on Show: 'I Have a Better Role'
Only a few weeks ago, Joy Behar told us that The View no longer "had a concept," had gotten too "fluffy" and was more "so what, who cares?" (quoting Fred Armisen's Saturday Night Live impersonation of her) than newsworthy.
It seems she changed her mind and she'll be back when the daytime talk show returns. In an exclusive conversation with Behar from her vacation home, the funny lady gave us the scoop on why she'll be back on The View (after departing the show in 2013) and what her role will be.
You were so hard on The View! Did they reach out to you?
[New consultant] Hilary Estey [McLoughlin] called me and said, "I really want you on the show." They've been after me for a year, really.
How did they get you to return?
My manager and I got the deal that we wanted. It's like a home base for me. I have a better role. And it's a political year. I want to talk some politics over there again. This is a very, very important election. The women who watch The View used to get a lot of information from us and we should be providing that for them. Let them know what's going on in a relateable way. Nothing wonky. We're The View. Not CNN.
Are you happy about Donald Trump's run? Isn't it a comedian's dream?
I think Donald has something positive to offer. He's forcing these politicians to speak the truth in a way. They're being put up against a wall by the guy, and in a way that's good. I want him on the show.
Are you a friend of his? Will he come on?
I went to his wedding to Marla Maples. He's come on the show before and his wife Melania was on my HLN show selling her jewelry. I don't have a big antagonism toward him and I think he's funny. He's a very special speciman.
Are you ready to take on Candace Cameron Bure? She's the new religious conservative who's joining the panel?
I've had that before. Nothing new there.
You said you wanted some power on The View—did you get it?
I think I have. They know that I know the show and that I'll have more of an input into how the show runs. I'll be sitting in the moderator's seat on Fridays for a while, because they're going live. I'll try that out. It will be fun for me. And it will be such fun to be back with Whoopi when she's there! I know Michelle Collins from my HLN show when she was a guest and Raven is a nice kid. I don't know [new co-host] Paula Faris yet.
Will you get a producer credit?
I should, shouldn't I? (Laughs) I don't produce, but I feel as they respect my opinion over there right now. They can use help from people who know the show well, and I'm one of those people.
How much will you be on the show?
For the first three months, I'll be there almost full time. I'm sitting in for Candace, who's doing Fuller House on Netflix. I didn't really sign on for full time job. I'll eventually do part time. But I'll be on a lot.
Are you annoyed that they couldn't make this deal a few months back?
I don't care. I had a wonderful summer. I enjoyed my time away from television. You know I have a show on TLC upcoming. It's a small commitment of five shows; another roundtable talk show that happened before I agreed to return to The View. It's a one-camera show, no audience, once a week with friends, celebrities; a lot of comedians dropping by.
What's the title?
We're trying to figure out a name. We're toying with Joy's Got Group. I haven't had a steady gig for two years, I wrote and performed a solo show, "My Mouth and I," and wrote other plays. It's interesting what happen to you. But I want to get back in the game because of the excitement of what's going on in the country.
So are you excited to come back on The View?
I am excited.
Optimistic that it will be the kind of show it used to be? You were pretty negative, after all.
Well, now they have me!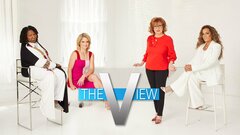 Powered by