'Gotham': 8 Burning Questions Before Season 2
With all its hidden hideouts, murderous nerds, and insane alliances, Gotham's first season left us breathless—and full of questions. Thankfully, years of reading Detective Comics helped guide us in our interrogation of executive producer Danny Cannon. Getting him to reveal actual spoilers, however, was harder than cracking one of Edward Nygma's riddles. (Plus, learn more about the second season at Gotham's Comic-Con panel on Saturday, and visit TV Insider's Comic-Con page for more features.)
We didn't see a body after Oswald Cobblepot, aka Penguin (Robin Lord Taylor), pushed Fish (Jada Pinkett Smith) into the river, so can we assume she isn't sleeping with the fishes after all?
Cannon is hush-hush about the femme fatale's fate but confesses that since Pinkett Smith "had such a great time on the show, we wanted to leave it open in the same way any good comic novel would." So start that #CatchFishAgain campaign now, fans.
What's in store for Cobblepot and Nygma (Cory Michael Smith)?
That big "I'm the King of Gotham!" moment will bite Cobblepot on the butt. "There are certain things in this town you don't self-proclaim, and that is one of them," Cannon says with a laugh of the new villains being lined up to challenge Penguin's reign. But don't expect Nygma to be among them—he's too busy honing his newfound homicidal instinct. "Ed is very much a split personality, and he will struggle with that, especially since the dark side of him has had a taste of blood," says Cannon. "It will be hard for him to quell that urge."
Will Selina Kyle (Camren Bicondova) find a better role model than Fish?
Of course not! Still, Cannon teases that our impressionable Catwoman-in-training will replace the mafiosa who recruited her with "another dark influence" next season. Why introduce the famous cave now? Because Bruce (David Mazouz) can handle the truth! "The only thing that can help him mature, I believe, is to find out what really happened to his parents," explains Cannon. "His father wasn't everything Bruce thought he was; he did have secrets. And Bruce needs to explore what his dad was hiding."
Plus: Get more Gotham news on TV Insider's Comic-Con page.
Did Lucius Fox (Chris Chalk) deliberately help Bruce find the cave?
"I think he did," says Cannon, hinting that the Wayne Enterprises junior exec told Bruce that his father was a "true stoic" to lead him to the Thomas Aquinas book that held the hideaway's remote opener. "Thomas Wayne knew Lucius was a comrade, somebody he could trust."
Was Jim Gordon's dad really in cahoots with the mob?
Don Carmine Falcone (John Doman) called Jim's late father "the most honest man I'd ever met…but he carried a knife." That tidbit will send Gordon (Ben McKenzie) on a search into his own past, much like the journey awaiting Lil Wayne. "Their paths have always been parallel in so many ways," Cannon says. "There is stuff Jim doesn't know, and by shining a light on that, he will find out who he is."
What is up with Jim's ex-fiancée, Barbara Kean (Erin Richards)?
Barbara went full-on freak show following her brush with the Ogre (Milo Ventimiglia), offing her own folks and attacking Jim's new love, Dr. Leslie Thompkins (Morena Baccarin), like an animal. Did we witness the birth of a new bad girl? "That is very possible," Cannon reveals. "She has been sent to Arkham Asylum, and I think she is uncertain who she is. The Ogre shifted something in Barbara, and with his destruction, that seed has been left to germinate within her."
And will we really see the Joker in Season 2?
Cannon has gone on record that the Clown Prince of Crime — who many suspect was Jerome (Cameron Monaghan), the carny who killed his mother in "The Blind Fortune Teller"—would be featured early on next season. "Without giving much away, there is only so much we can do with the Joker," he says. "But we can breed a cult of villains who thrive on anarchy and destruction, and within that environment…let's just say that this is the season where confident, outrageous villains of Gotham can be created."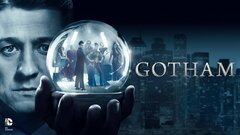 Gotham
where to stream
Powered by