College Football Kickoff 2017 TV Schedule
The 2017 college football season kicks off with much fanfare and a full slate of Week 1 games from Aug. 26-Sept. 4.
Stanford and Rice help kick off the season Aug. 26 in the Sydney Cup matchup from Allianz Stadium in Sydney, Australia, on ESPN.
The Big Ten opens conference play in primetime Aug. 31 with J.T. Barrett and Ohio State at Indiana on an ESPN MegaCast, and Sept. 1 with Utah State at Wisconsin on ESPN.
The first Saturday of the season on Sept. 2 includes highlights like NC State vs. South Carolina (ESPN) in Charlotte, N.C.; Michigan vs. Florida (ABC) in Arlington, Texas; Florida State vs. Alabama (ABC) in Atlanta; and BYU vs. LSU (ESPN) in New Orleans (relocated from Houston due to Hurricane Harvey).
There are even two primetime games on Sunday, Sept. 3, with Texas A&M at UCLA (FOX) and West Virginia vs. Virginia Tech (ABC) in Landover, Md., and a Sept. 4 Monday night clash with Tennessee vs. Georgia Tech from Atlanta (ESPN).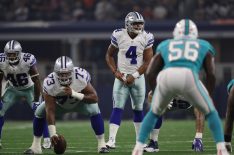 See Also
CBS, FOX, NBC, ESPN and NFL Network combine to televise NFL preseason games in 2017.
College Football Kickoff Week 1 Schedule Highlights
All Times Eastern/Central
Saturday, Aug. 26
3/2c: Portland State at BYU, ESPN
10/9c: Stanford vs. Rice from Sydney, Australia, ESPN
Thursday, Aug. 31
8/7c: Ohio State at Indiana, ESPN MegaCast (ESPN, ESPNU, ESPNEWS & ESPN3)
10:30/9:30c: New Mexico State at Arizona State, Pac-12 Network
Friday, Sept. 1
8/7c: Colorado State vs. Colorado from Denver, Pac-12 Network
8/7c: Washington at Rutgers FS1
9/8c: Utah State at Wisconsin, ESPN
Saturday, Sept. 2
Noon/11c: Akron at Penn State, ABC
Noon/11c: Kent State at No. 7 Clemson, ESPN
Noon/11c: Maryland at Texas, FS1
3/2c: NC State vs. South Carolina from Charlotte, N.C., ESPN
3:30/2:30c: Temple at Notre Dame, NBC
3:30/2:30c: Michigan vs. Florida from Arlington, Texas, ABC
3:30/2:30c: UTEP at Oklahoma, FOX
3:30/2:30c: Nevada at Northwestern, BTN
3:45/2:45c: Troy at Boise State, ESPNU
5:15/4:15c: Western Michigan at USC, Pac-12 Network
6:15/5:15c: Appalachian State at Georgia, ESPN
7:30/6:30c: Georgia Southern at Auburn, SEC Network
7:30/6:30c: Louisville vs. Purdue from Indianapolis, FOX
8/7c: Arkansas State at Nebraska, BTN
8/7c: 2017 Chick-fil-A Kickoff Game: Florida State vs. Alabama from Atlanta, ABC
8/7c: Vanderbilt at Middle Tennessee, CBS Sports Network
8:15/7:15c: Southern Utah at Oregon, Pac-12 Network
9:30/8:30c: 2017 AdvoCare Texas Kickoff: BYU vs. LSU from New Orleans (relocated from Houston due to Hurricane Harvey), ESPN
10:30/9:30c: Montana State at Washington State, FS1
11/10c: Northern Arizona at Arizona, Pac-12 Network
Sunday, Sept. 3
2:30/1:30c: 2017 MEAC/SWAC Challenge: South Carolina State at Southern, ESPN2
7:30/6:30c: Texas A&M at UCLA, FOX
7:30/6:30c: West Virginia vs. Virginia Tech from Landover, Md., ABC
Monday, Sept. 4
8/7c: 2017 Chick-fil-A Kickoff Game: Tennessee vs. Georgia Tech from Atlanta, ESPN