What's On: 'Episodes' Final Season, the latest 'Get Shorty' adaption on Epix, 'Game of Thrones'
Episodes (Sunday, 10/9c, Showtime): "This is the box that they like you in," Matt LeBlanc is told on the set of a ridiculous game show he's hosting, titled The Box—a sort of Big Brother-meets-The Wall monstrosity that only seems like an unthinkable parody if you've never watched TV. Playing a fictional version of himself, LeBlanc has never been better than in this stinging show-biz satire, returning for its final season. Getting no acting offers—Celebrity Wife Swap wouldn't count, even if he were still married—LeBlanc is in desperate straits, and so are his married writer-pals Sean (Stephen Mangan) and Beverly (Tamsin Grieg), whose new sitcom project has been hijacked by Sean's former writing partner, who declares to the writers' room: "Comedies don't have to be funny anymore." Don't tell that to the real LeBlanc, because the inescapable irony here is that it's now impossible to watch Episodes without mourning the actor's talent being wasted on CBS's thuddingly mediocre Man With a Plan.
Get Shorty (Sunday, 10/9c, Epix): More Hollywood mockery, laid on thick in this first-rate homage to Elmore Leonard's tall tale of dangerously corrupt clods muscling their way into the movie business. As hack producer Rick (Ray Romano) tries to convince anyone that financing a movie with cash is on the up-and-up, novice mobster-turned-mover Miles (Chris O'Dowd) charms, and then alarms, studio exec April (Megan Stevenson) with his rugged schemes. The series shifts from comic to sinister in a blink, and in its portrayal of crime boss Amara (Lidia Porto), noir takes on a decidedly telenovela edge.
Game of Thrones (Sunday, 9/8c, HBO): Jon Snow & Co. go "Beyond the Wall" into the icy North, and if you've seen the advance photos, you know a chilling confrontation is coming, presumably with some remnant of the Army of the Dead and its leader, the fearsome Night King. Will the white walkers prevail? Will dragonglass make a difference? All things considered, wouldn't the presence of one of those mighty dragons bring some much needed climate change to this region? Just thinking aloud as we wait for the penultimate episode of this spectacular season.
At Home in Mitford (Sunday, 10/9c, Hallmark): Here's one for the family—or at least my family (many of whom are hooked on these books): Andie MacDowall relocates from Cedar Cove to a new bucolic village in a TV-movie based on Jan Karon's revered series of novels. She plays an author who moves to Mitford to settle her late uncle's affairs and finish her latest novel, but finds herself drawn to the local bachelor rector, Father Tim (Cameron Mathison).
Inside Weekend TV: In the wake of Charlottesville, ABC's 20/20 (Friday, 10/9c) devotes a full hour to a report six months in the making that follows extremist groups aligned with white supremacists and the Anti-Fascist far left. … Her star is rising with Girls Trip, The Carmichael Show and Tracy Morgan's The Last O.G., making this perfect timing for the Showtime debut stand-up special Tiffany Haddish: She Ready! From the Hood to Hollywood! (Friday, 9/8c). … For classical fans, Renee Fleming joins the Vienna Philharmonic for the annual Summer Night Concert from Schönbrunn Palace, a PBS Great Performances special (Friday, 9/8c, check local listings at pbs.org). … With the Will & Grace revival coming to NBC next month, WE tv presents all-day marathons of the classic sitcom for the next five Saturdays, starting with the "Best of Will (Eric McCormack)," starting at 10 am/9c. … In the fourth and final season of AMC's Halt and Catch Fire (Saturday, 9/8c) the tech pioneers confront the early days of the Internet, which will change everything. … TNT's The Last Ship (Sunday, 9/8c) begins its fourth season with Tom Chandler (Eric Dane) seeking peace and quiet in Greece, but when the Red Flu begins to infect the world's food supply, threatening global famine, it's time for a Homeric odyssey to once again save the world.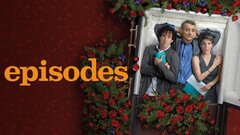 Powered by