Animal Planet's 'Pit Bulls and Parolees' Announces Return Date, Releases Season 7 Trailer
Pit Bulls and Parolees, the show that documents the emotional ups and downs of running a rescue center that pairs dogs in need of saving with ex-convicts in need of second chances, returns to Animal Planet for its seventh season Saturday, September 19.
In Season 7, Tia Torres, who operates Villalobos Rescue Center, has to rely on her children and her staff of parolees more than ever to keep up with the number of pit bulls in need of rehabilitation. Since moving Villalobos to New Orleans three years ago, the center has filled up with more than 400 dogs, and Torres has expanded her operation to satellite locations from New Orleans's Ninth Ward to the bayous outside the city.
Torres and her crew also go beyond helping pit bulls to take in dogs of various other breeds, and even relocate 38 cats with help from My Cat from Hell's Jackson Galaxy.
Watch this exclusive trailer for a taste of the intense rescues, tearful goodbyes and heartwarming adoptions coming up in the new 25-episode season. The show is produced by 44 Blue Productions.
[jwplatform yhQxXJe5]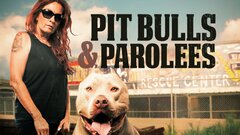 Powered by