Watch: Samantha Bee Reads Steve Bannon's Origin Story While Waiting for North Korea to Nuke Us
Just when you thought you'd lose it if you heard the words "fire and fury" one more time before the coming nuclear annihilation, Sam Bee offers a tiny sliver of hope in these dark times.
The Full Frontal host started Wednesday night's show with an un-ironic hat-tip to the president for replacing "dangerous f***in' nutbag with the PizzaGate son" Michael Flynn with sane person H.R. McMaster as his national security advisor.
"Things may seem scary now, but as long as there's one grown-up in a White House full of children, reality stars and Huckabee, we should be fine," Bee desperately wants to believe. You know, unless the Bannonites manage to push McMaster out.
RELATED: Subscribe To TV Insider's Full Frontal With Samantha Bee Newsletter
So while we all await the coming apocalypse, Bee and the Full Frontal Book Club dive into Joshua Green's new book Devil's Bargain about the rise of Steve Bannon's influence, from Gamergate to the White House. Enjoy while you pack your go-bag and stock up on canned food and contact lenses.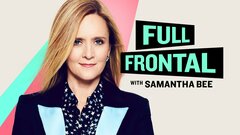 Powered by