The 'Marvel's Agents of S.H.I.E.L.D.' Cast Would Definitely Rescue Jon Snow (VIDEO)
https://player.waywire.com/?id=VQBY6V2JZXDWRQNS
When they're not hunting down Hydra agents or battling Inhumans, the Agents of S.H.I.E.L.D. gang is goofy and relaxed.
The cast stopped by the TV Guide Magazine/TV Insider yacht to chill out during Comic-Con and debate the ultimate crossover show: American Idol, Law & Order, MasterChef Junior, Iron Chef, Shark Tank…or Game of Thrones?!
"I would like to drop out of a Quinjet in full stealth suit, with my pals Mockingbird and Quake, and take out these bastards from the Watch who are trying to stab Jon Snow!" vows Clark Gregg.
Watch the hilarious interactions between the close-knit crew.
RELATED: More Comic-Con Features | Video chats with the casts of Game of Thrones, The Walking Dead, Teen Wolf and more.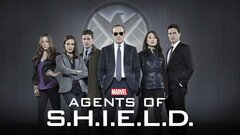 Powered by