'The 100' Cast Gears Up for a Bigger Season of Sci-Fi and A.I. (VIDEO)
https://player.waywire.com/?id=DSKWJH0XND382YW5
What's coming up for Season 3 of The 100? Expect the show, which premieres mid-season in 2016, to go in a "much greater science fiction direction," says Lindsey Morgan, and for artificial intelligence (seen in Season 2) to "have a massive impact," says Ricky Whittle. Specifically, viewers will learn how the world came to an end.
The actors and actresses (including TVGM fan fave Eliza Taylor) of the CW show gathered on the TV Guide Magazine/TV Insider yacht at Comic-Con to share their ideal crossover shows (Fear of the Walking Dead), their experience moderating a SDCC panel and what makes SDCC special (passionate fans). "We broke the record for the most crowded room in the whole of Comic-Con history," says Whittle.
Watch the video above to also hear the cast's crazy Comic-Con story.
RELATED: More Comic-Con Features | Video chats with the casts of The Shannara Chronicles, The Flash, The Walking Dead and more.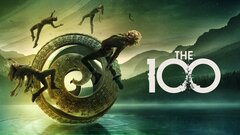 The 100
where to stream
Powered by