'The 100' Is About to Go 'Hard-Core Sci-Fi', Showrunner Reveals at Comic-Con
The deaths of the entire population of Mountain Men in the Season 2 finale of The 100 is resetting The CW series for its upcoming season, during which Clarke (Eliza Taylor) is going to try to come to terms with her decision to bring tainted air into Mount Weather and irradiate the entire population in order to save her 48 Sky People.
"To start with a spoiler, we're going to have our first time jump between seasons," executive producer Jason Rothenberg told the audience gathered in Ballroom 20 at San Diego Comic-Con. "It will be a couple of months after Clarke bailed. It is as different as Season 2 was from Season 1."
The finale introduction of Ali (Erica Serra), an avatar who's technically an A.I., will be a big part of the upcoming story, but may not head in the direction one supposes, according to Rothenberg. It currently appears as if Ali is responsible for launching the nukes in the first place, but there is more of a mystery to it than that, which is all he will say.
RELATED: Eliza Taylor Fights for Freedom (and Finds Strength) on The 100
"Ali sets us up in a new sci-fi direction," Rothenberg told the audience. "We lost the space angle in Season 2. This lets us get back to hard-core sci-fi."
Time jumps and artificial intelligence mean big changes, but the one thing will remain the same: The 100 will continue to be dark, with just a smattering of lighter moments thrown in, like this past season's kiss between Clarke and Lexa (Alycia Debnam-Carey).
"When we started the season, I knew I was going to try to push them over the line to see how far they would go to save their people," Rothenberg said. "We were building toward the moment when Clarke had to kill all the Mountain People, and there were kids there."
As for Clarke, "She is finding herself," Taylor said. "She's gone bad. What she did at the end of the season was so huge and traumatic, she is running away, which is very un-Clarke like."
Other highlights from the panel:
Clarke's desertion leaves Bellamy (Bob Morley) to take on a leadership position. "They were a good team. Clarke gave Bellamy the confidence to make decisions and trust them. He needs her in that sense. Romantically, I don't see a pairing. Don't kill me," Morley said.
There may be a rocky road ahead for Octavia and Lincoln. Although Octavia (Marie Avgeropoulos) is from the Sky People, she is going to have a hard time fitting in after her time with the Grounders. "I feel like Octavia really hasn't found anywhere she belongs, growing up under the floor, but through Lincoln she really found her place within the world of Grounders. It brought out the warrior in her. I think she will have a hard time going back to the Sky people," Avgeropoulos said. And Lincoln (Ricky Whittle) is prepared to make sacrifices for Octavia. But since the Sky People he's now living with only know Grounders as killers, there are going to be obstacles to acceptance. "I think we are all molded by our experiences," Whittle said. "Of course, what he has been through is going to affect Lincoln. He has trust issues. Lincoln doesn't want this war. He has always fought for the greater good and will continue to this season."
Jaha (Isaiah Washington) may have been aiming for the greater good, but he's lost everything. "I always look at the show as an opportunity to show the flaws we have," Washington said. "My thing with Jaha is: What is the greater good? Is there a good? What is the moral compass of what you have to do? We have had some pretty inhumane things happen in the U.S. recently, and on The 100, we are shining a light on how we could be more humane today.
Raven (Lindsey Morgan) is down, but not out. Raven's having a rough time, from dealing with the loss of Finn, plus her physical challenges with her leg, and now the bomb blast. "I think she is still a little bitter, but Raven is coming out on top," Morgan said. "I think it is going to be awesome. You see the ramifications. Raven is changed by everything she went through. She is trying to rebuild herself piece by piece."
There is a possibility of a reconciliation between Clarke and Lexa, but there will be "fireworks like we haven't seen before" when it happens, according to Rothenberg.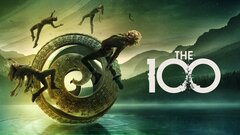 The 100
where to stream
Powered by