5 Most Essential Episodes of 'Difficult People' Seasons 1 & 2
If you're thinking about diving into the third season of Difficult People but haven't seen the first two seasons, your worries can end here.
We here at TV Insider have narrowed two seasons of funny guest appearances, interesting plot points and character development into five essential episodes. Fully experience Billy Kessler (Billy Eichner) and Julie Epstein's (Julie Klausner) short tempers and unique friendship by checking these out.
"Children's Menu" (Season 1, Episode 5)


Nothing is more entertaining than Billy and Julie's abhorrence for children. Not only are they stealing roles in showbusiness, but according to Julie, kids get all the good food. The simplicity of a children's menu inspires them to transform the café menu into all children's dishes at adult prices. Their restaurant venture is a success until the cafe is filled with children whom are ultimately scared away by Arthur (James Urbaniak), who resembles a child molester on the news. For those who hate children as much as Billy and Julie do, you'll love the auto-tuned version of the pair berating a 19-year-old YouTube star at the end of the episode.

"Premium Membership" (Season 1, Episode 7)


Although the main storyline revolves around Billy and Julie's unorthodox approach to podcasts, the subplots are also very entertaining. Julie is online bullied by a mysterious user nameded "happyhour37," who calls her a fat Reba and an unfunny Kathy Griffin. Meanwhile Billy has an unexpected sexual experience with a man (played by Seth Meyers) at the dog park. The episode also features an original play about divorced women who reach happiness with Marilyn's help, written by and starring Marilyn (Andrea Martin) herself.

"Kessler Epstein Foundation" (Season 2, Episode 2)

Sometimes Billy and Julie's excessive confidence in a poorly thought-out idea (see number 5 on this list for their worst idea yet) works in their favor, but this episode does not highlight one of those instances. In an attempt to gain fame through charity work, Billy and Julie decide to "pick up where the Ice Bucket Challenge left off" and start a new viral trend for charity. Broadway legend Nathan Lane ends up falling for Billy and Julie's plan and sticks his hand in a public restroom toilet for a food delivery organization. Another Broadway star, Megan Hilty, makes an appearance as one of Marilyn's patients whom she manipulates into cleaning her apartment. If you learn one thing from this episode, it's that Broadway actors are very easy to take advantage of.

"Italian Pinata" (Season 2, Episode 3)


When the duo spend a night in New Jersey, they take full advantage of the opportunity to live a double a life. Billy pretends to be coming out for the first time in order to receive attention from other gay men, and Julie becomes a girls' girl with a group of Italian women. What's great about this episode is Billy's hilarious impression of a straight man, and a scene where Julie tells Marilyn and Arthur that she now identifies as Italian after spending so much time in Jersey. In addition to all the digs about the Garden State, how Billy and Julie learn to accept themselves makes this episode worth the watch.

"Carter" (Season 2, Episode 7)

After Billy and Julie are sued for writing an unauthorized musical about Taylor Swift, they turn their attention to another successful musical—Hamilton. Inspiration leads the pair to write a historical musical of their own based on Jimmy Carter. The musical is not that bad for only one night of rewriting, but it crashes and burns due to historical inaccuracy, awful rapping and a solo number about Ronald Reagan and AIDS. Bonus: Lin Manuel Miranda makes a guest appearance as himself to reprimand Julie and Billy for falsely quoting him on their promotional flyer.
Difficult People, Streaming Now, Hulu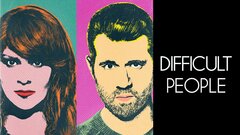 Powered by