Who's the Grittiest of Them All? A Chat With the Winner of 'American Grit' Season 2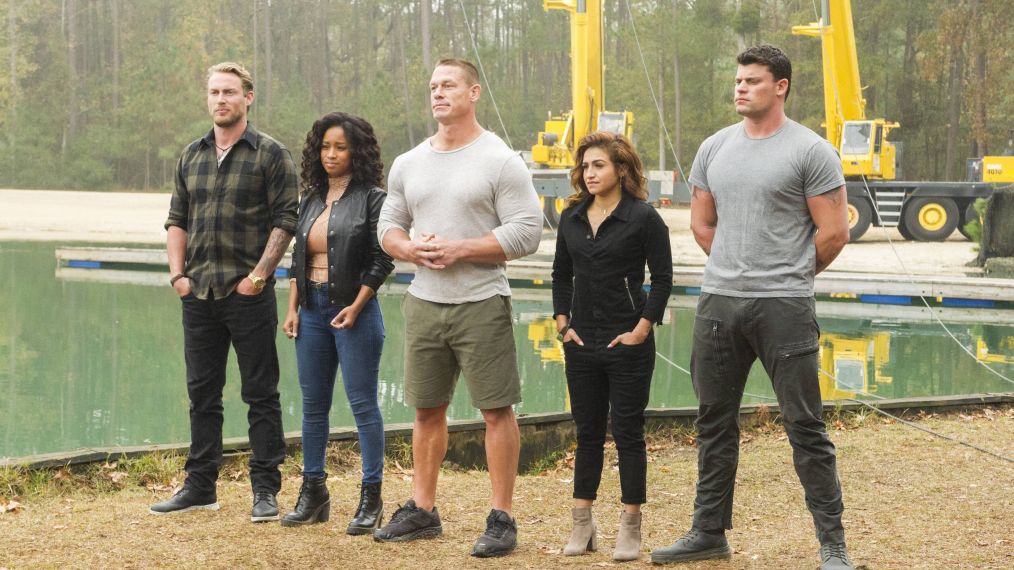 [Spoiler Alert: This interview contains spoilers about the Season 2 finale of American Grit.]
When the season finale of American Grit ended, it was the "Princess" from New Jersey who outlasted 16 other competitors and walked away with $250,000.
Gigi Gustin, 20, held to the cross bar with all her might in the last challenge against fellow Team Green competitor Michael Wilson Morgan and Team Blue's Hannah Koen. One crane held the bar and another pulled them away from it.
A wrong answer to a question given by host John Cena meant a timed penalty and removing a hand from the bar. Eventually, it was Hannah who slipped first, leaving the teammates fighting to stay in the game 50 feet above the water. After two hours, the competitors were left with one hand to hold on for the duration. Gustin pulled off the upset, with Morgan losing his grip and ringing out. A trademark howl could be heard by her cadre leader Grady Powell in celebration of her victory.
See Also
Ahead of the 'American Grit' season finale, TV Insider sat down with 'Shady Grady' Powell to chat about his experience on the show.
Earlier in the episode Morgan had the opportunity to pick one of his team members to ring out and chose Herman Brar, who he saw as a threat. Gustin pled her case, saying she wasn't going home without her fight. She ended up getting that and more.
"For about three weeks after the competition, I did not have full feeling in my left arm," she told us. "I was starting to get nervous I was about to lose my arm. I never done something like that before. Everyone was against me except for my cadre, because nobody thought I deserved to be there. They thought I only got this far because of my strong team. So, this was really my chance to show everyone I am an asset to my team. I can hold my own and had a lot to prove. There was just no way I would let myself lose. I feel victorious. Gigi came, Gigi, saw, and Gigi conquered."
We had the chance to catch up with Gustin days before the season finale aired, and she reflected on her experience at Camp Grit, what she plans to do with her prize money and if those nails that were chopped off at the beginning of the season are back.
You were the youngest in the cast and came in as an underdog. What is that like, to prove the naysayers wrong?
Gigi Gustin: Not only the youngest, but I walked in with sparkly flipflops, a little pink dress, and before people knew how old I was they thought I didn't belong. They thought I would go home in three days. So, to be the girl so underestimated against someone like Michael. Michael is a stuntman. He is 38 years old. There was a lot of pressure being on the strong team. I was seen as the weakest link for being a girl, my girly personality and my age. I hope people who see the show can relate to me and show they can do it, too. It feels pretty good be the smallest competitor there taking out a strong guy from my own team. I feel good about myself.
How would you say life was like before the show?
I worked at a prom dress store. I wasn't showing up to work a lot. I eventually got fired from my job the day after I got evicted from my place. A few weeks before that I dropped out of college and used my rent/tuition money on a chihuahua. I actually lived in a car for three days, so winning this money is a lot to me. I needed a place to live, a car. I was lacking leadership. I was lacking priorities. One of the reasons I went to American Grit was because I knew I had cadre who would help me prioritize. I was lacking guidance. My life before Grit was a mess. I was looking for direction. I feel happier, healthier and waiting on my check now.
How has life changed since the show aired?
My grandma passed away recently and had no idea I won the show. What's a shame is she won't see me win the finale and know I won. I'm hoping she is up in heaven and the angels get her a projection screen to see it…The only time I have been recognized by myself was with my grandma. So, it was cool for her to experience that and my life about to change.
I just moved in with Hannah, which all the fans are loving. I moved in with her and her family. We have been recognized together a bunch of times. I had a lady in the supermarket say, 'Gosh, I heard your voice and knew that was you.' We were at the theme park and some kids saw us with my face pulled up on Google. This is the way things are now. Being on a show that is so inspirational, I feel way better being a public figure and people walking in my footsteps because before Camp Grit I didn't want anyone walking my footsteps. I made a lot of mistakes.
One of the most memorable scenes from the season was when you had your fake nails chopped off. What was that like watching back, and are those nails back on?
I will tell you, the nails are back on. I need a pedicure super bad; I'm about to meet up with Scarlett [Angelina] from Team Yellow and hang out with her all week and go to a finale party. It was kind of hard watching it back because I knew the second I walked across the bridge and said, 'The princess is here!" everyone was like, "Oh, my God."
When I got my nails off, people saw I was full of surprises and that maybe I would surprise them. I thought I looked badass. I was proud of myself. It was hard for me. Grady hit the nail on the head, saying I had a bit of a façade with the nails and eyelashes. I have a birthmark on my left eyebrow. I have a scar from a car accident on my right eyelid, so the eyelashes hide all of that.
So, to rip myself of all that made me feel good about myself. I was happy more of the audience than I thought were able to recognize me; that was a big thing to me. There were people who saw that was hard without even knowing my backstory of living in a car for a few days and a lot of bad stuff that happened. The one thing I was proud of was my appearance. So, to have me shed all my layers within two hours of being there, I have to look back and give myself a pat on the back. That was real Gigi. That was a real step. My transformation started the second I walked over that bridge…
When that check does come in the mail, what's the first thing you are going to do with that $250,000?
I'm definitely going to buy a car. I managed to stay in shape, and you know why? Because I walk everywhere. I'm going to use the money to get a gym membership. I'm planning to get an apartment. I want to move to L.A. I'm planning to go out there and look before I get my check.
Also, we had a big moment where Melanie [Mahanna] shaved her head. Then we actually did a Grit Cares event in Georgia where we met the family of the daughter who Melanie donated her hair to. The girl was Toraya [Jai Garvin], who passed away, we had this big fundraiser in her memory. That fundraiser is still open, so I want to donate a small portion to that. During the trip, we also went to CURE Childhood Cancer Center. I was sitting next to a 16-year-old who is fighting for her life. It made me wish I could help.
So, with this money I need to help myself, but I also want to help a charity. This is going to be my new beginning…Now that my debt is gone I get to move forward, not look back. I can't wait for my new beginning.