'American Grit': Will Grady Powell Lead Someone on His Team to Victory?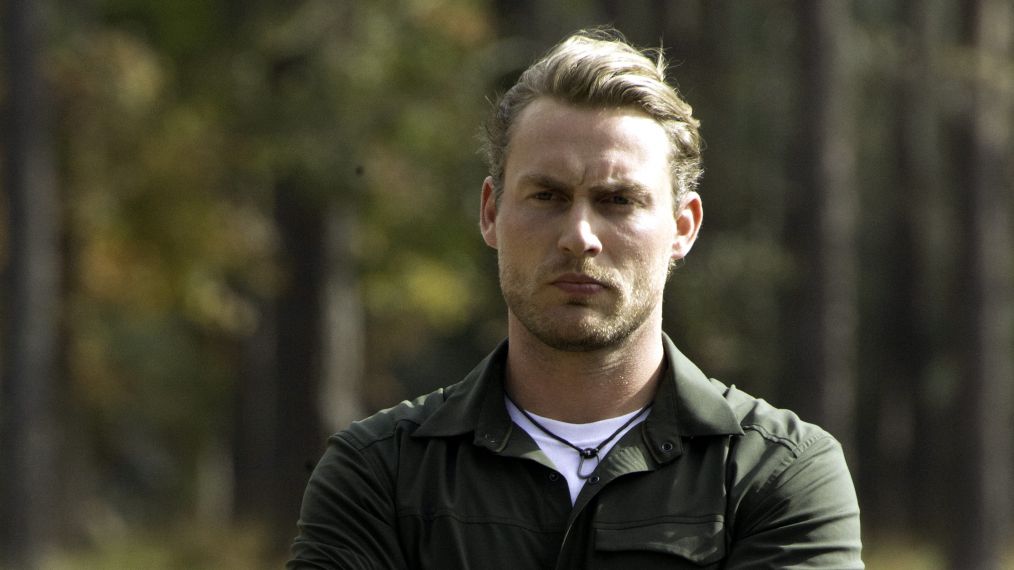 After weeks of challenges that tested the physical and mental toughness of 17 competitors on American Grit, only six are left to compete for the grand prize of $250,000.
Heading into the season, teams of four were led by a Cadre including John Burk, an army infantry drill sergeant; Riki Long, a U.S. Marine; Chloe Mondesir, a U.S. Marine ammunition ion technician; and Grady Powell, a U.S. Army Green Beret.
Unfortunately, Long lost her last Yellow team member, Carla Mireles, prior to the finale leaving Burk (Blue), Mondesir (Red) and Powell (Green) still in the game. Powell has the best odds of celebrating a competitor win with half the finalists on his side.
See Also
Meet the new Cadre who will lead the competitors on season two of 'American Grit' premiering June 11 on Fox.
Before the last visit to Camp Grit, TV Insider spoke with Powell about the experience, his teammates, working alongside host/executive producer John Cena and if he thinks he deserves the "Shady Grady" moniker.
There were a number of changes made to the format of American Grit this season with having the Cadre leaders truly embedded. You lived together, ate together, competed and even had to ring out when all members of your team were eliminated. How do you think these adjustments made an impact?
I feel that having the Cadre live, eat and sleep under the same roof, so close to the competitors, was great for multiple reasons. The two that stick out the most were that we are immersed with the teams. Our commitment was not just a few hours a day; it was life. We were able to get to know the teams better this year, help the teams more. Having changed from competitors "showing their grit" to "finding their grit," I feel this was a much more effective living situation. We could better help and invest ourselves with those who trusted us to be their guiding light. Same goes with having to ring out if we lost our whole team. It gives Cadre more reason to push our teams, mentally and physically; no one wants to go home—not even the coaches.
It seems green is the lucky color on this show considering last season Noah Galloway had similar success. What do you attribute your team's consistent success to? What made your coaching style so effective compared to the others?
I'm not necessarily one to say green is the best color, but as a Green Beret, I may be a tad bit biased. I feel that my coaching methods worked so well because from the second I first hugged my little wolf pack, we were a family. Not only fighting to win and growing as an individual, but as in life, fighting alongside our friends and family for a common goal. Success, happiness and love of others and self.
Over the weeks you were even given—and some might say earned—the nickname "Shady Grady." Do you think this was warranted? Looking back, do you regret any of your tactics?
I told my team and the other Cadre before the competition began, "I will do whatever it takes within my moral compass, and my ethical code, to keep my team here. I will play mind games, but I will not lie. I will not cheat. My goal is to have team green competing against each other for the $250,000." The other Cadre understood and were fine with it … It was okay in their minds until it started working and team green assumed the position of "team to beat." I stayed true to my team and to myself. I have no regrets.
You spent a lot of time with host John Cena on the show. What did you learn about him that maybe you didn't know or that would surprise people?
There are a lot of people within the "industry," if you will, who take part in charity functions that I feel just do it for good press—not John. That man is truly a good human who wants to help as many people as possible. He has taken his fame and success and found a way to make sure to share it with as many children as he can through the Make-A-Wish Foundation and his other charitable outlets. He is an extremely savvy businessman, and definitely not one to have others do the work for him. Dirty, calloused hands, and a story of success, and kindness that many will talk about for ages.
See Also
Ahead of John Cena's return to 'SmackDown Live,' here is a look at five memorable milestones in his WWE career.
How would you sum up your experience on the show?
I wasn't only a Cadre on this show; I learned a lot about myself. I have always found myself in leadership positions, always at the top of the food chain, often with others looking up to me for advice. I never knew why, always felt over appreciated if that makes sense. My team and the other teams at Camp Grit were some of the first to really help me to understand why, what it was about me that made it so natural to help others. They gave me the confidence to be the leader I was born to be.
Would you do it again?
When do we start?
Are there any other projects coming up you wanted to mention?
I have been in talks with a few companies about getting back into some possible survival shows, but right now I am focusing on my newest endeavor with my girlfriend Meg [Meyer], Quill Craft Co. We handmake home decor, furniture and jewelry. I love working with my hands, and this has been a blast starting a business with the woman I love.
American Grit, Season Finale, August 6, 8/7c, Fox