'Flipping Out's Jeff Lewis Faces Baby Daddy Drama in the Season 8 Finale
More than ever before, Season 8 of Flipping Out—the Bravo docuseries that follows mercurial Los Angeles-based real estate and design expert Jeff Lewis—has run the gamut from high to low, and from the sublime to the ridiculous. (See: the heartrending death of his beloved cat Stewie…and a storyline about faulty plumbing that brought bathroom humor to the forefront.) Tonight's season finale will be no exception to that trend, as Jeff's executive assistant, Jenni Pulos, films a music video for her kids' rap song "Poo in the Potty," and then later in the episode, Jeff and his longtime partner, Gage Edward, meet the surrogate who will hopefully carry their child. Here, Lewis offers his take on the emotional roller coaster.
Now that Jenni is the star of a rap video, has her ego spiraled out of control?
"Poo in the Potty" is gonna go global! Jenni does tend to think things are bigger than they are. She gets recognized one day in a mall and it's all over—I have to bring her back down to earth.
This season, your bond with Gage was tested, as was the relationship between Gage and your housekeeper, Zoila Chavez. What was at the root of it?
We all have our challenges. Gage and I aren't just living together but working together all day long. The difference this season is how I dealt with it. At 45 years old, I'm finally becoming an adult. Gage and Zoila fight about the stupidest things. There's always been a power struggle between them. They're both trying to assert control.
How did it feel to come face-to-face with your future surrogate?
I was so afraid that I would screw it up. It's like a date, but it's also a job interview. My biggest fear was that she would Google scenes from the show and not want to work with us.
You're known for being a perfectionist. If she gets pregnant, are you going to micromanage the process?
I'm confident that she's going to take very good care of our baby. But will I be stressed? Yeah. That poor girl doesn't know what she's in for. I can't control her diet, but I can certainly make suggestions. And for whatever reason, I have this phobia about her having sex with her husband too close to the delivery. I don't want our baby to see that!
Flipping Out, Season finale, Wednesday, August 19, 9/8c, Bravo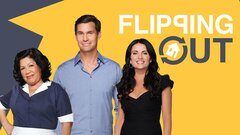 Powered by