Maz Jobrani Tackles the Audacity of Immigration Battle in Poignant Netflix Comedy Special
In the CBS comedy Superior Donuts, which returns for its second season on Oct. 30, comedian Maz Jobrani plays Fawz, an Iraqi immigrant who has his sights set on becoming a real estate mogul. The character gets some of the series' best one-liners and has drawn comparisons to other charmingly abrasive sitcom characters like Carla Tortelli on Cheers and Taxi's Louie de Palma.
"[Fawz] gets to say some inappropriate stuff, but it's funny," says Jobrani. "Ultimately, if people are liking a character that's got an Arab accent, who's an Arab-American on a TV sitcom, then I think we're making some progress."
On Aug. 1, Netflix premiered Jobrani's latest stand-up special, Immigrant. "Comedy allows you to talk about serious topics in a way that people will listen and they may not actually be consciously realizing that you're trying to hit them with a political message," says the comic, who immigrated to the U.S. during the Iranian revolution of the late 1970s.
Jobrani shares, "In my comedy, I take on social issues, political issues and my kids." His comedy not only touches on his personal journey as an immigrant but also some of the universal truths shared by all immigrants, regardless of country of origination.
"When I first started doing stand-up, almost 20 years ago, I would talk a lot about being Iranian and growing up Iranian in America. And then at one point, I was in L. A. and doing a joke about how my grandmother used to keep her cash in her bra, and there were a couple of Latinas in the audience and they were laughing because their grandmother did the same thing! It hit me—wait a minute, a lot of immigrants, no matter where you're from, whether you're Mexican or Italian or Iranian or whatever—they have a lot of things in common."
Jobrani is passionate about using his comedy to introduce the show the audacity of injustice, much like his comedy heroes.
"If you look back at Richard Pryor, I think that he was able to bring African American humor into the mainstream; and I think that you can talk about serious issues and serious topics with comedy. I think that it makes it more palatable. I heard D.L Hughley say this one time—'Comedy is like giving people their medicine but in orange juice, so they don't taste the medicine.' Comedy allows you to talk about serious topics in a way that people will listen and they may not consciously realize that you're hitting them with a political message."
Maz Jobrani: Immigrant, Streaming, Netflix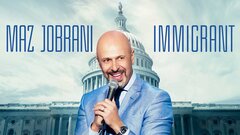 Powered by