'The Leftovers' Cast and Producers on Season 2 Changes
HBO's The Leftovers is heading west for Season 2.
It's been over three years since two percent of the world's population suddenly vanished, and former Mapleton Chief of Police Kevin Garvey (Justin Theroux) longs for a change of scenery to rebuild both his life and his family. So along with new love interest Nora Durst (Carrie Coon), Garvey packs his bags and heads to Miracle, Texas, a small town that did not experience one departure.
"This family wouldn't want to stay in the place where they were, geographically or emotionally," said executive producer Damon Lindelof at the Television Critics Association press tour on Thursday. Added author and executive producer Tom Perrotta: "Season 1 is about how a family fell apart, and Season 2 is about how they come back together."
The Garveys form an immediate friendship with a Miracle family, the Murphys, including matriarch Erika (Regina King). "I am a mother and doctor who works in the clinic of my little town," King said. "But there are some things you get to learn that's behind that smile."
Even with a plethora of new faces, some familiar characters from the first season will return, including Guilty Remnant leader Patti (Ann Dowd), who killed herself towards the end of Season 1. "She's still going to be on the show and we have a plan," Lindelof insisted. "What we're doing in the second season with her is fairly unique, and we don't want to use her as a Shakespearean ghost. She's a huge problem that needs to be solved."
While the actors remained tight-lipped about their storylines, Coon teased that viewers will be able to see Nora operate as "a wife and mother again," while Theroux emphasized that although the location is geographically different, the stakes are even higher. "It is this big beautiful open sky in Texas," he said. "But they've created this kind of bizarre ant farm where the world is actually smaller and slightly more intense."
More TCA Coverage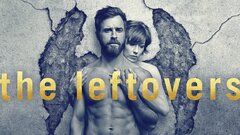 Powered by